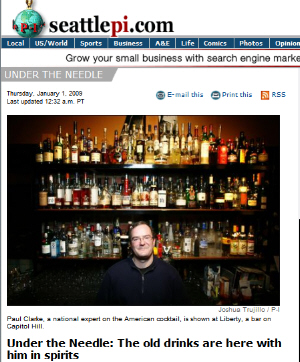 After keeping up this blog for 3 1/2 years and writing about booze for publications around the country, the first day of 2009 brought me a little hometown love with this piece in today's Seattle Post-Intelligencer: "The old drinks are here with him in spirits".
Written by Mike Lewis — who helped me damage a number of Keith's cocktails at Barrio last weekend — the article is part of Mike's "Under the Needle" series, which in other cities would sound like a column devoted to people struggling against IV drug addiction, but in Seattle simply refers to the defining element in the city's skyline. Mike does a nice job of touching on the city's growing cocktail scene, while offering sometimes uncomfortable observations about me ("balding"? C'mon, man, I'm still in denial about that, y' don't have to put it in the paper!). While in the depth of our lightly boozy conversation a detail or two may have come out mangled, I'm appreciative of the piece, and only regret that I wasn't able to make sure folks like Casey Robison at Barrio, Jim Romdall and Zane Harris at Vessel and Andrew Friedman at Liberty received their fair share of my respect and appreciation in the story (and thanks to Andrew for letting us disrupt his bar for the photo shoot) — though I should also point out how hilarious I find it that Seattle's most notorious drink-slinging self-professed media whore manages to hog the spotlight in stories that aren't even about him.
Anyway, it's a good start to the new year. If you're new to the blog and have come over from the P-I, then welcome and please take a look around; even better, visit a few of the establishments mentioned in the piece and witness what Seattle's finest bartenders are up to yourself.
Happy new year, all–