The word "cocktail" and the idea of a "mission statement" should never appear in the same train of thought, but here we are – the "about" page. Well, if you must know—
The Cocktail Chronicles is an ongoing exploration of fine spirits, creative cocktails and classic mixology. This web log was created in May 2005 in an effort to document the drinks I'm experimenting with at any particular time, along with thoughts on cocktail ingredients, brands and types of spirits and the overall culture of drinking (I also discovered that it's a handy way to keep track of all those cocktail recipes I was always losing on little slips of paper or in the little notebooks that clutter up my desk). Since its inception, The Cocktail Chronicles has explored more than 200 different drinks; covered the home-brew of obscure cocktail ingredients such as pimento dram and falernum; been the founding site and ongoing moderation source for the regular virtual cocktail party known as Mixology Monday; attracted—oh, hell, lots of readers (and pissed off a few, too); and presented only slightly inebriated daily updates from Tales of the Cocktail, the nation's foremost cocktail event.
The Cocktail Chronicles is updated somewhat regularly by Paul Clarke, a Seattle-based cocktail enthusiast whose brief experience working behind a bar entailed nothing more challenging than pouring pitchers of Coors Lite for college students with fake IDs. I had my mixological satori in the Summer of 2003, and since then I've taken the "roll your own" ethic of David Embury to heart, spending countless hours reading about, mixing and studying an array of cocktails, with a special emphasis on early- and mid-20th century classics.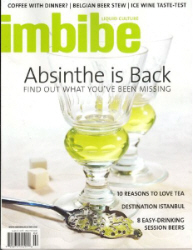 In addition to documenting these endeavors on The Cocktail Chronicles, I'm a contributing editor at Imbibe magazine and I've written articles on spirits and cocktails for the San Francisco Chronicle, Wine & Spirits, Entrepreneur, Edible Seattle, Seattle Met and Seattle magazine, and a series of essays on the culture of drink for the New York Times' Proof blog.* I've also contributed two spirits-and-cocktails-related posts per week to the excellent group food blog Serious Eats since July 2007, and written a chapter on the history and character of the gimlet to the first edition of Mixologist: The Journal of the American Cocktail.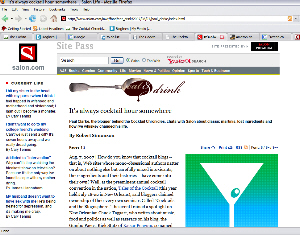 While I'm not convinced it's a good thing when one's drinking habits attract media attention, I was profiled by Salon.com in August 2007 and in the Seattle Post-Intelligencer in January 2009 (plus here's a somewhat cringe-worthy TV profile that ran on KING-TV's "Evening Magazine" in March 2010); and this very blog was featured as a Yahoo! Pick in 2007 and was covered as an "Online Find" by the Boston Globe in February 2008. I've also been featured making sozzled observations and half-baked pronouncements about spirits and cocktails in publications including the New York Times (twice!), the Washington Post, the Seattle Times, Seattle Metropolitan, the Pittsburgh Post-Gazette, the Baltimore Sun, SFO (Stocks, Futures & Options Magazine — I know, surprised me, too), Tiki Magazine (that's more like it) and — rock on — the Tulsa World. I've also been invited to chat about drinks with "Weekday" host Steve Scher on local NPR affiliate KUOW not once, but twice.
In non-booze related life, I work as a writer in Seattle, and—but you didn't come here to read about that.
Now, how about a drink?
(And if you're buying, you can try me at paul@cocktailchronicles.com)
* Write about what, you may ask? Well, how about these, for starters:
Sugarcane Rums Gaining in Popularity
San Francisco Chronicle – July 25, 2010
A Star is Re-Born: LA's cocktail renaissance is finally in full swing
Imbibe – July/August 2010
Bartenders Find Complexity in New Aperitifs
San Francisco Chronicle – June 13, 2010
Bar Star: Brian MacGregor
San Francisco Chronicle – May 16, 2010
The 25 Most Influential Cocktails of the Past Century (PDF)
Imbibe – May/June 2010
More Asian Voices in Whisky Debate
San Francisco Chronicle – April 11, 2010
Clearing the Way: Vodka gains new momentum behind the bar (PDF – scroll down)
Imbibe – March/April 2010
Bottled Brawn: The potent allure of Fernet Branca (PDF)
Imbibe – March/April 2010
Using Strong Alcohol: The Proof is in the Taste
San Francisco Chronicle – February 28, 2010
White Whiskey Drips Into the Mainstream
San Francisco Chronicle – February 14, 2010
Team Canada: Vancouver's innovative bars are vying for a place on the world cocktail podium (PDF – scroll down)
Imbibe – January/February 2010
Liquid Gold: Serious rums are made to be savored (PDF)
Imbibe – January/February 2010
Barrel Can Bring a Bonus to Booze
San Francisco Chronicle – November 29, 2009
A Fresh Push for American Apple Brandy
San Francisco Chronicle – November 15, 2009
Chocolate-infused Spirits With Kick, Not Sugar
San Francisco Chronicle – September 27, 2009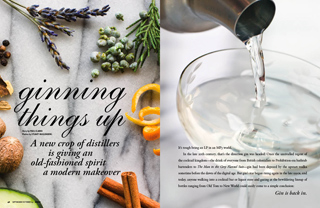 Ginning Things Up: A new crop of distillers is giving an old-fashioned spirit a modern makeover (PDF)
Imbibe – September/October 2009
Bartenders Getting Choosier About Equipment
San Francisco Chronicle – June 14, 2009
Bartenders Swap Places
San Francisco Chronicle – May 24, 2009
Welcome to Las Vegas: Searching for authentic cocktails in America's most wildly self-inventive city (PDF)
Imbibe – May/June 2009
Last Call: Dispatches (scroll to the bottom)
New York Times – Proof, April 7, 2009
New Moon Rising: Don't tell the revenuers, but a new breed of moonshiner is making illicit spirits respectable (PDF)
Imbibe, March/April 2009
Why (and How) I Drink
New York Times – Proof, February 5, 2009
Are You Friends, After an Old Fashioned?
New York Times – Proof, January 11, 2009
Bartenders hop up cocktail flavors with beer
San Francisco Chronicle, January 9, 2009
Cherry Crush: So long, artificial flavors; Cherry Heering is a natural winner (PDF)
Imbibe, January/February 2009
A warming trend in winter: When the mercury dips, Bay Area bartenders turn up the heat on cocktails
San Francisco Chronicle, December 26, 2008
Drinking Outside the Temple
New York Times – Proof, December 25, 2008
Newfangled American spirits go beyond rye, bourbon
San Francisco Chronicle, December 19, 2008
Sugar Daddy: For 30 years, Stephen Remsberg has been amassing the largest private collection of rum in the world (PDF)
Imbibe, November/December 2008
Sloe Ride: A much-maligned liqueur stages its comeback (PDF)
Imbibe, November/December 2008
Get Cracking: Don't be chicken about using eggs in your next cocktail (PDF)
Imbibe, September/October 2008
Rocking Out: Think there's nothing to ice but frozen water? Get ready to be schooled in cool (PDF)
Imbibe, September/October 2008
The Truth About Vermouth: The secret ingredient in today's top cocktails remains misunderstood
San Francisco Chronicle, August 18, 2008
Vintage Bar Books, Hot Off the Press
San Francisco Chronicle, July 4, 2008
Good Medicine: Quinquinas provide a cure for the common cocktail
Imbibe, July/August 2008
Kissed by a Rose: Rosewater adds floral flair to sparkling cocktails
Imbibe, May/June 2008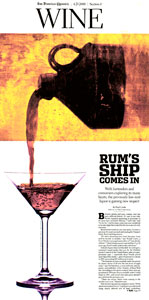 Rum's Ship Comes In
San Francisco Chronicle, April 25, 2008
Hot dram! Complex Jamaica liqueur's American revival captures imaginations of connoisseurs
San Francisco Chronicle, March 28, 2008
Sappy Story: Maple syrup sweetens up the bar
Imbibe, March/April 2008
Seeing Green: Absinthe is Back — Better Than Ever (PDF)
Imbibe, January/February 2008
Sherry on Top: Spain's Fortified Wine isn't Just for Baking Fruitcake Anymore (PDF)
Imbibe, November/December 2007
Perpetual Fruit: Brandies Harness the Spirit of Pears, Berries and Plums (PDF)
Imbibe, September/October 2007
Gone But Not Forgotten: Obscure Vintage Ingredients are a Cocktailian's Holy Grail (PDF)
Imbibe, July/August 2007
Not Bad for a Beachbum: Tiki scholar Jeff Berry burns a torch for a rum-soaked chapter of Americana (PDF)
Imbibe, May/June 2007
The Comeback Kid: Say Hello (Again) to Rye Whiskey, an American Classic (PDF)
Imbibe, January/February 2007