As Michael pointed out this weekend, Imbibe magazine has now passed the one-year milestone. That's a big deal, folks — around 60 percent of new magazines fail in their first year (and I've seen other figures that peg that closer to 90 percent), so Imbibe is really bucking the trend. Having been a contributor to the magazine for almost every issue, it's been really exciting for me to hear people talk about it and to see it mentioned in online forums, and to know that it's really getting some traction among people who give a damn about what goes in their glass. If you haven't yet, please subscribe, and for those industry types out there — c'mon, people, I know you're reading this, I see your domain names flashing past — buy a freaking ad, already.
This month's issue contains a salvo from Dr. Cocktail on what's possibly my favorite summer cooler, the gin rickey, and a step-by-step from Robert Hess on how to make his house bitters (which I've got to try again sometime, having somehow screwed up my last batch through a measurement misinterpretation). It also has a profile I wrote of Jeff "Beachbum" Berry, the reigning king of the tiki bar and the author of three tomes of tiki drinks and cuisine, Grog Log, Intoxica! and Taboo Table. I'd been looking forward to working on this article for quite a while, not only because of the wonderful experience I had interviewing Jeff in New Orleans last summer during Tales of the Cocktail, but also because his new book, Sippin' Safari, is coming out in June, and I had the chance to take a peek at a few of the chapters.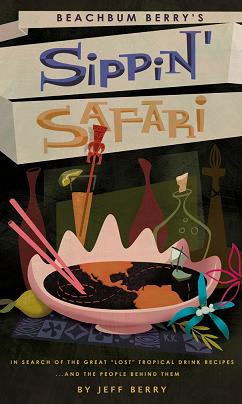 From my reading of these sample chapters, Sippin' Safari promises to take the extensive research Jeff has done for books such as Grog Log, and present it in a longer-form, much more detailed package. For people who like to know a little bit about the history behind their drinks and the people who first created them, this book fits the bill in spades. And since secrecy about recipes was held to such importance among the owners and bartenders at the old tiki bars, Jeff didn't have much printed material to work with — instead, he had to rely more on extensive interviews with bartenders, gradually working to gain their trust so they'd share the old stories and, most intriguingly, the old recipes. Of the 67 recipes in Sippin' Safari, 46 have never before been printed, and from the few I saw and put together myself, they include some of the very best drinks to have come out of the old Polynesian palaces from the 1930s onward.
Sippin' Safari comes out in June; you can pre-order your copy from the publisher. I can't wait to read the full book once it's released.
Imbibe's one-year anniversary and a new book from the Bum — that's a lot to celebrate at one time.