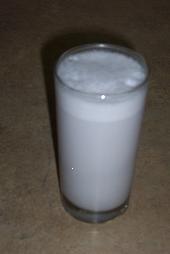 In case you can't tell from the lousy photo, the drink is actually a bit more gray than violet.
It's also not too bad, though I can't see myself making one again anytime soon.
This round of Mixology Monday is brought to us by Anna at Morsels & Musings, and for her theme, Anna has chosen cream. True, she did specify cream-based liqueurs to be used in the drinks, but she provided an out for folks like me by specifying that other creamy-type things would also be admissible.
Good thing, because I haven't a cream liqueur in the house, and I don't really foresee a need for one in the near future — nothing against them, and I enjoy the occasional homemade Irish cream around the holidays, but they're just not my usual thing.
But, I also didn't want to post the first cream-based drink that pops into my head, the Ramos Fizz, partially because I've already blogged about that one, but also because I figure somebody, somewhere, is going to hit it tonight.
Which brings me to the Fizz a la Violette.
I'd like to say I plucked this from some old-timey drink manual in my collection, but truth be told, I got the recipe from CocktailDB.com and then just tweaked it. True, I did go searching through the books for some original recipe, and while I found Violet Fizzes in the likes of David Embury's The Fine Art of Mixing Drinks, and in The Flowing Bowl by "The Only William," neither of these recipes had in common the factors that initially caught my eye in this version — namely, the use of violet liqueur (once it caught my interest, I couldn't let go of it) and, of course, the use of cream.
While I was initially apprehensive, I've gotta say the result isn't too bad. Creme de violette can really dominate a drink, but I think the cream and the egg white manage to distract it enough to keep it from being a bully. Of course, the color doesn't translate well, and the gray tinge to the eggy, creamy foam is a bit unappetizing, but no matter — it's a Monday, I've been busy as hell, and right now I want something strong, cold and attention-getting; the Fizz a la Violette fits the bill.
Fizz a la Violette

2 ounces gin
1/2 ounce fresh lime juice
1/2 ounce fresh lemon juice
3/4 ounce creme de violette [Hermes — other options available soon]
1/2 ounce cream
1/2 egg white
1 tsp simple syrup

Shake all ingredients really strenuously with ice; strain into tall, chilled glass (about 10-12 ounce capacity), top with chilled seltzer.
Head on over to Anna's place to see who else came up with creamy goodness.