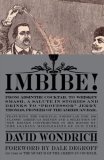 Anyone who's glimpsed the visage of David Wondrich is well aware of his predilection for expressive facial hair. But while he may face stiff competition at the World Beard and Moustache Championships, his recent book, Imbibe!
, blew away all comers this weekend at the 2008 James Beard Foundation Awards.
As Jamie wrote, "As if there wasn't enough of a reason to own Imbibe!, our good friend David Wondrich has just won a James Beard award for this transcendent tome!" I couldn't have said it better myself, though I gave it a shot here: Imbibe! No, the other one.
Congratulations, Dave–