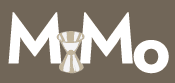 The subhead to this post should be: "Yes, it's another PNW Blackberry drink."
But what do you expect? The theme for this month's Mixology Monday is "Local Flavor," (selected by our host this month, Kevin at Save the Drinkers), and it's the Pacific Northwest in late summer. Short of distilling down a Douglas fir — oh, wait, that's been done — if you need a local ingredient around here, you need look no further than the blackberry. (Of course, I could have turned to other ingredients evocative of Seattle, but a drink mixed with over-roasted coffee and hyper-hopped beer with a muddled chunk of smoked salmon just ain't in my future. Sure, it'll be on some promo menu at Bite of Seattle or something, but not here.)
While there are native varieties, the Himalayan blackberry is the most prevalent in these parts — so much so that it's considered a noxious weed. Given the right mix of climate and disturbed soil, blackberry brambles consume Seattle real estate faster than the nouveau riche, springing up with such unabashed greed for new neighborhoods that they make even condo developers blanch.
This is the way I was thinking this past weekend, as I, like seemingly many other booze-bloggers in the region (with the exception of displaced Canadians), sauntered out in pursuit of some bramble-fruit. That's where things went south: given the lousy luck with weather we've had the past six months or so, the berries on the bushes look green, knobby and angry, as if they're daring you to pluck them and pop them in your mouth so they can strangle you with an astringent wallop that'll put you in full-body pucker for the better part of a week. The farmer's market wasn't much better: while I scored some decent raspberries, the blackberries looked bloated and flaccid, and promised to be about as appetizing as watching a peanut butter-smeared late-career Elvis try to haul himself out of a beanbag chair.
Remembering what great things they're doing with freezers nowadays, I picked up some frozen blackberries (after confirming that they're at least from Washington state) and a bottle of vinegar and headed home to make some shrub.
Yes, I'm late to this one, but with good reason: last year, when Rick and Gabriel (who otherwise typically detests complex ingredients — c'mon, you didn't think I'd let that slip by, did you?) and everyone else was going on and on about their homemade shrubs, I could simply head downtown and step into Vessel, where Jamie was doing all the work for me, even making up drinks with all my favorite ingredients that featured his homemade shrub.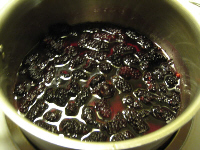 This year, however, is different: Jamie's moved on, and Zane is too busy talking smack about me to my friends to start naming drinks after me (or so I've heard — not like I've stopped by Vessel recently. Hmmm, maybe there's a connection there…). So, with no other option at hand, I shrubbed it up: two batches, one raspberry and one blackberry (so I can mix to taste), fortified with champagne vinegar.
Raspberry / Blackberry Shrub

1 pint raspberries and/or blackberries
1/2 cup sugar
1/2 cup water
1 cup white wine vinegar (I used champagne vinegar)

Mix sugar and water over medium heat and bring to boil; add berries and let simmer about 10 minutes. Add vinegar and boil another two minutes. Cool and strain; a second strain may be needed to remove the fruit flies that settled in the liquid after the first strain (try not to think about it later when you're mixing the drink). Bottle.
But how else to go local with the drink? How about a product from a Washington distillery; unfortunately, until Pacific Distillery in Woodinville gets their gin and absinthe on the market later this year, that means the only one around is Dry Fly in Spokane. Not exactly local, though it is in the same state; plus, they make gin and vodka, but I really like dark spirits with the shrub. With that kind of mileage, I might as well look south and start poaching products from Portland's distilleries, which thanks to a less bass-ackwards set of state regulations, are more numerous than those in Washington. Looking for a dark spirit — especially one that matches well with berries — I quickly settled on the fruity and flavorful 2-year-old apple brandy from Clear Creek Distillery.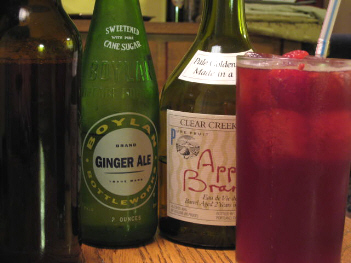 Which brings me to the Apple Bramble Buck — and of course, the confession: since there's no citrus juice in there, it's not really a buck; but, the vinegar in the shrub lends acid and that bright sharpness, so this etymological offense is a relatively minor one.
Apple Bramble Buck

2 ounces Clear Creek 2-year-old Apple Brandy
1 ounce blackberry shrub
4 ounces ginger ale

Build in a highball glass over ice; stir gently and provoke with a straw.
I almost went with a spicy ginger beer on this one, but I'm glad I didn't; the shrub has a strong flavor, but delicate, and I think the ginger would have trampled over the nuances of the berries. I went with full-bore blackberry shrub in this, in keeping with the theme, but next time around — and there will certainly be a next time; this thing is damn tasty — I may mix equal parts raspberry and blackberry, just to give it another dimension.
Anyway, after a fleet of failed experiments on my part, the Apple Bramble Buck delivers. Head on over to Kevin's place to see what other folks have done in their locales this Mixology Monday.