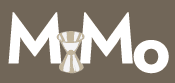 Apologies for the lack of a photo, and for the brief length of this post: but nothing turns you off of mixing and photographing a drink — not to mention merely sitting upright in front of a computer — like a good ol' bout of stomach flu.
But, this month marks the third anniversary of Mixology Monday, so I'm willing to sip some ginger ale and nibble a few water crackers while thinking happy thoughts and participating in this round of MxMo, hosted by Tristan at The Wild Drink Blog, with the topic of Superior Twists.
Tristan's goal is to get folks blogging about creative interpretations of classic cocktails (preferably original drinks) that somehow improve on the original. I'm not sure if this drink counts, as technically I'm taking an older twist on a familiar classic and customizing it a bit in the classic style. But what the hell, it's a tasty drink that deserves the recognition — plus, I feel like crap right now so this is just gonna have to do.
Early prototypes and incarnations of some classic cocktails are, when you come right down to it, fairly boring; you can see from these early manifestations why the drink evolved over time into the blockbuster concoctions of later eras. Consider the Manhattan: as described in books such as Jerry Thomas' 1887 bar manual, it's composed of two parts vermouth and one part whiskey, with dashes of bitters and maybe some maraschino and/or curacao to doctor up the flavor. There's nothing inherently wrong with that, and if you're in the mood for such a thing it can be absolutely wonderful. But this gauge of Manhattan lacks the kind of firepower — both in terms of flavor and alcohol boost — you're sometimes looking for in a cocktail; toss some 80-proof Old Overholt in the mixing glass with this recipe and the whiskey is simply window dressing.
Thankfully, last summer Erik Ellestad noted via Twitter, and Chuck Taggart documented for posterity, a take on this recipe that's worth discovering: he mixed a Jerry Thomas Manhattan using the bombastic bourbon from George T. Stagg. Typically bottled in the vicinity of 140 proof, the Stagg kicks up the flavor and alcohol level while still letting the vermouth play a major role.
This Manhattan variation has become my go-to celebratory drink; I typically mix it with a cask-strength rye such as Thomas Handy Sazerac or, sometimes, Lenell's Red Hook Rye, along with the powerfully flavored Carpano Antica vermouth. Bolster it with two dashes of The Bitter Truth Repeal Day bitters and a little maraschino and absinthe, and this is a roaring glass of flavor that still knows how to behave like a gentleman. Assuming I'm ever back to health, this is one I'll be trotting out.
Jerry Thomas Manhattan

2 ounces sweet vermouth (either Carpano Antica or Vya is preferred)
1 ounce cask-strength rye or bourbon
2 dashes aromatic bitters
2 dashes maraschino liqueur
2 dashes absinthe

Combine ingredients in a mixing glass and fill with cracked ice. Stir well for 20 seconds and strain into chilled cocktail glass. Garnish with a cherry, if you've got some good ones lying about.
Completely original? No, not quite — but a twist on the familiar Manhattan that is a favorite in my house. Head on over to Tristan's place to see what other drinks are being mixed this Mixology Monday.