I'd heard about this drink, and thought about this drink, long before I ever tasted this drink.
My delay in putting one of these together wasn't due to any uncertainty about its potential — from just reading over the recipe, it's easy to tell this elaborate relative of the mojito has plenty. Nor was it due to any questions about its heritage: having sprung from the mind of Audrey Saunders, this cocktail is a purebred. Rather, it was due to the name — while I appreciate the tip-of-the-hat reference, I was just unable to imagine ordering or mixing this cocktail without being plagued by the mental image of Spencer Tracy.
Not the down-to-earth sportswriter Tracy in Woman of the Year, or the Tracy-as-Father-Flanigan in Boys Town, or even the grumbling curmudgeon Tracy in Guess Who's Coming to Dinner — no, I mean the weather-beaten, salt-encrusted, callous-handed, life-dumped-everything-upon Tracy of The Old Man and the Sea.
If you haven't seen the movie, you probably remember the book from American Lit: old Cuban fisherman goes to sea, tries to catch a fish, doesn't catch a fish; repeat; repeat; repeat, ad infinitim; then, old Cuban suddenly catches the biggest fucking marlin the ocean's ever created, and gets towed around the Caribbean for three days before he lands it, only to have to fight the sharks for the carcass. After picturing the sun and the sweat and the stink, a champagne cocktail always seemed a bit too civilized — I would have felt too soft to properly enjoy it.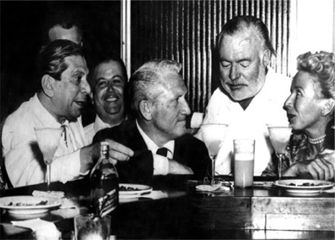 Still, there was plenty about the whole motion picture scenario that I'm sure was cocktail-worthy. After all, it was Tracy as Old Man and narrator in a Hemingway story — two legendary topers, working in pre-Castro Cuba. There are plenty of photos around, showing the pair with Hemingway's wife, Mary, having drinks at Floridita in Havana with Constantine Ribalagua tending bar. I'm sure if Audrey's drink had been around at the Floridita, no one would have looked at Tracy and paused.
Old Cuban (recipe from Dale DeGroff's www.kingcocktail.com)

1 1/2 ounce Bacardi 8
1 ounce simple syrup [or less, to taste]
3/4 ounce fresh lime juice
1 dash Angostura [2 works well]
6 mint leaves
Champagne
Muddle the mint, syrup and lime juice in a mixing glass; add rum and bitters, and shake with ice, then strain into chilled cocktail glass [you may want to double-strain this, to keep the big flecks of mint from getting stuck in your teeth]. Top with champagne, garnish with mint leaf or a sugar-coated vanilla bean.
This edition of Mixology Monday is being hosted by Rick over at Kaiser Penguin. Head on over and see what everyone else is up to with mint.