These are heady days for drinkophiles (beverage believers? libation lovers? whatever–). Today's proverbial cups runneth over with more and better types of custom-roasted coffees, premium teas, microbrewed beers, fine wines, artisan-distilled spirits and, of course, culinary cocktails than perhaps at any other time in our history. But while there's a growing number of books, magazines, newspaper columns and websites (including, of course, blogs) delving into every aspect of this abundance, a quick survey of my local bookstore shows very little crossover between the cooking and food sections, the few exceptions being the obligatory wine-pairing guides and the maddeningly vague and mostly useless catchall category of "entertaining" books.
That has now changed.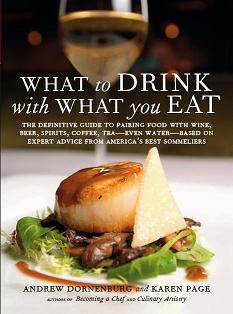 In July, while attending Tales of the Cocktail, I had the pleasure of sitting in on a seminar titled "Pairing Food with Cocktails," with a panel that included cocktail luminaries Robert Hess, Ryan Magarian and Audrey Saunders, along with a couple with whom I was not familiar: Andrew Dornenburg and Karen Page, authors of several volumes that transcend the "cookbooks" label (read my writeup here). Not quite three months later, Andrew and Karen have released their latest book, What to Drink with What you Eat, a comprehensive guide to pairing foods with most anything you can pour into a glass. With this useful, rigorously researched book, Dornenberg and Page have more thoroughly and efficiently linked the food and drink categories than has any other volume you're likely to find on the shelf.
Ever the cynic, I was prepared to be disappointed when I first opened WTDWWYE, expecting yet another bland guide to pairing chicken with chardonnay and beef with pinot noir, with beer and especially spirits left confined to the beverage ghetto, included only as an afterthought or used in downscale pairings such as Budweiser with hot dogs or margaritas with tacos. As is often the case, I was wrong — Dornenberg and Page have placed a special emphasis on creating a work impressive in scale and comprehensive in scope, seeking input from dozens of seasoned culinary professionals to design pairings for foods ranging from grilled salmon to Kit Kat bars and beverages spanning the spectrum from oolong tea and lemonade to Cotes du Rhone and Armagnac.
Introductory chapters cover the basics of sensory enjoyment, a primer to pairings and shopping suggestions, and closing chapters feature pairing menus from prestigious restaurants such as Chanterelle in New York and Frontera Grill in Chicago, and "desert island" lists of food and drink from an array of sommeliers, bar directors and chefs. But the guts of the book are what make WTDWWYE so valuable: two extensive sections — one arranged alphabetically by food, the other by drink — with thorough breakdowns of preparations or varieties with listings of different pairings, including bolded recommendations for especially potent matches. Halibut tonight? Grab a bottle of chablis or white burgundy; if you're grilling it, sauvignon blanc works well, but if you're going the roasted route, a pinot noir might be what you need. Or maybe at this time of year, you've got a bottle of hard cider you're ready to use; match that with a few oysters, a pork dish or maybe just a few tastes of brie and pont l'eveque. Subcategories are given thorough attention: sake merits eleven breakout categories, from the medium-bodied daiginjo to the sweet kijoshu, and for a dish such as steak, pairing recommendations are provided for 32 different cuts and preparations.
Being a spirits and cocktails geek, I found some satisfaction in the book — I'm looking forward to trying out the pairing of Asian spring rolls with gin-based drinks — and while I'd like to have seen some attention to vermouth (a chilled glass of French dry Noilly Prat is fantastic with raw oysters, or vermouth-steamed mussels with garlic and shallots) and maybe a bit more breakout for different whiskies, I think the authors did a remarkable job in including spirits, cocktails, beers and other beverages in a world typically dominated by wine. What to Drink with What you Eat is going to see a lot of use in my house.
Check out the book's website here. Or, to purchase, follow the handy link: