UPDATED 7/21 8:00 am LOCAL TIME — now with pictures and coherent thoughts!
Michael Dietsch said:
Please keep us posted, if you can still see the computer when you stumble into your hotel room each night!
Tough order, Michael.
Having now stumbled into the hotel room, wondering why my vision doesn't quite focus, here's what I can tell from today:
* breakfast: about a 4,000 calorie phenomenon at Brennans (which, the manager told me, lost 35,000 bottles of wine in the flooding following Katrina), with baked apple and double-cream followed by two kinds of poached eggs — both smothered in Hollandaise — and (dessert for breakfast!) bananas foster over ice cream to follow. Nothing jolts you out of a hangover quite like flaming fruit in the morning.
After swinging by Vieux Carre liquors to pick up some Sazerac rye and some Herbsaint, I headed back to the hotel for–
* seminar 1: "Get the Hot Dish" — a talk about flavors, coming and going, from chefs including Frank Stitt, Marcus Samuelson and Aaron Sanchez, and Dale DeGroff — a better-than-I-thought-it-would-be seminar, focusing on how chefs focus on flavors and preparations in their cooking, and how trends follow–Dale helpfullly pointed out that the beverage industry is still trying to recover from Prohibition and its lingering after-effects (in the form of blue laws and weird and restrictive state laws, which I frequently bitch about), and that bars are about the point of 1959 in terms of coming to grips with the culinary phenomenon, what with 95 percent of bars still using sour mix from guns, and using lousy, watery ice from outmoded machines. All in all, it was a coup on Dale's part, hoisting the bar industy on its own foibles and emphasizing a need to get back to basics when it comes to flavor and preparation — "We still have a hard time getting people to even put something in a glass that's worth drinking," says DeGroff.
* seminar 2: New Orleans cocktails — in which Phil Greene and Chris McMillian (bartender at the Library Bar here in New Orleans, before it was Katrina-ized) went through the sazerac, the vieux carre, the hurricane, the ramos gin fizz and the mint julep, along with the history of the cocktail, bitters, liqueurs, ice, and all sorts of things, all in less than two hours (answer to the question, "how do you make a ramos gin fizz for a room of 90 or so people? answer: let them shake it themselves). Fun, packed presentation.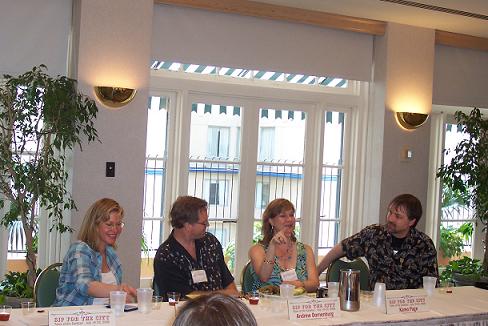 * seminar 3: pairing food with cocktails — in which Audrey Saunders, Ryan Magarian, Robert Hess, Karen Page and Andrew Dornenberg walked us through matching the different flavor profiles of cocktails with assorted dishes. This was probably the best event of the day, in my opinion, as it had Robert mixing daiquiris and Manhattans for the group (and since Robert was mixing them, and not a staff member, the drinks were gooooooood), and matching them with different foods that came along. This culminated with Ryan making an excellent tequila Manhattan (2 ounces anejo tequila — he used Herradura — 1/2 ounce sweet vermouth, 1/4 ounce Licor 43, and a dash each of Angostura and Regan's Orange Bitters), and garnishing it with a slice of mole salami from Salumi, in Seattle, wrapped around a tequila-soaked dried cherry. I can't even begin to explain how spectacular this drink was.
Highlights for me:
* sharing my latest falernum (I know, I'll post the recipe soon) and pimento dram with Dr. Cocktail and Beachbum Berry, both of whom made appreciative noises over them, much to my star-struck cocktail geekish delight;
* sitting at the same table as Janet Zimmerman — JAZ from eGullet — then having a lovely discussion about falernum and cocktails with her;
* talking cocktails and falernum with Chad, who bartends at Pegu Club and Milk & Honey in New York, and has come up with an excellent-sounding drink called the Jabberwocky — Tanqueray, lemon, lime, Drambuie —
* getting rapidly schnockered at the happy hour event — Jeff Berry: "Taste this — does that strike you right?" followed quickly by David Wondrich's "Would you like a Weeski?" (massive cupful follows), Dr. Cocktail's Straights Sling (which the staff prepared without fizz, so Doc handed out the glasses saying "You may want to hold onto the back of your head so you don't get whiplash when you taste this") and Paul Harrington's Jasmine: "Look, I invented grapefruit" — so that I wisely decided to step out and rest before dinner, so I wouldn't have to be pulled out from under someone's book-signing table with a half-slurped drink in my hands. (by the way, it was a very good thing, seeing Paul Harrington with cocktail shaker in hand, and even better to see him pouring a cocktail into my glass)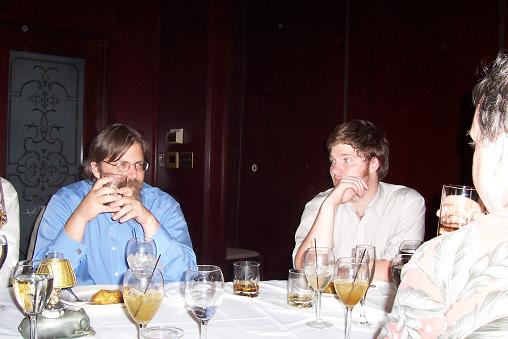 * tonight's Spirited Dinner, in which I joined David Wondrich, a guy from Jackson, Mississippi who was treating his son for his 21st birthday, Brad from barmixmaster.com and his lovely wife, Rebecca, the author Poppy Z. Brite and her husband, Chris DeBarr (a chef at The Delachaise who held forth about cooking in a very engaging way, and who summed up the current state of affairs in New Orleans–which, in a word, ain't good) for an only slightly debauched evening of whiskey and red meat, which I could barely walk home to the hotel from.
Tomorrow: oh, god, there's another day? I'm afraid of the hangover that awaits me ……