The hangover was blissfully mild, but I learned my lesson — keep the food coming, and don't go crazy when the drinks start flowing. Easy to say, but when you wind up with back-to-back events and you have some incredible cocktail personally mixed by a cocktail luminary, saying "no" isn't really an option.
Still, today I planned to take it easy, and, for the most part, I did — at least, as easy as I could take it when the first event of the day involved drinking absinthe at 11:00 am.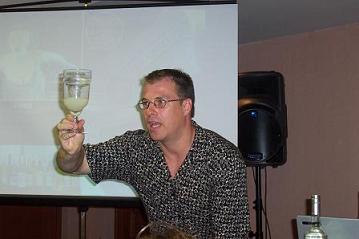 I wasn't the only one left creeping from the night before, but somehow a mighty crowd made it into the day's first event, a discussion on absinthe from absinthe expert and Jade Liqueurs founder Ted Breaux, and Gwydion Stone from Seattle's own Wormwood Society. Ted's received a lot of press lately — profiles in Wired and The New Yorker spring to mind — and he gave an incredible one-hour presentation on absinthe's tumultuous history, then showed photos of his own artisinal absinthe plant in southeastern France, which still has the original Eiffel-designed cast-iron structure and the original stills and equipment from more than 100 years ago.
Even among booze geeks, absinthe still has a mystique, and is plagued by a lot of the old myths — that it'll make you hallucinate, that it made Van Gogh cut off his ear, that drinking it will make you crazy. Breaux' presentation called bullshit on all of that, and he walked us through how he (a chemist and microbiologist) managed to prove in the peer-reviewed literature that the original, quality absinthes (not the cheap knock-offs that, due to the use of various chemicals for color and effect, typically did present a genuine hazard) posed none of the threats that were used to frighten the public into banning the spirit in Europe and the United States in the early 20th century. He also covered the differences in today's absinthes, and warned how many brands — including some of the most widely-advertised and most popular — aren't, in fact, absinthe, but rather, just high-proof alcohol that has had some flavorings and colorings sloppily added, and bills itself as high-priced absinthe.
But the real treat, of course, was the tasting. Breaux had brought two types of absinthe — Jade's Vert Suisse, and a white Swiss brand (the name of which I unfortunately couldn't make out, and didn't have a chance to write down afterwards). Each absinthe had its own unique quality — the Swiss brand had a chewy, buttery base note, while the Vert Suisse was more funky and botanical — and as all of these glasses of absinthe were louching all around the room, the air filled with this perfume-like aroma of anise and herbs.
I had to dash out before the end of the tasting to make the next event, the Bourbon Academy — a grand lunch at the Bourbon House (on, go figure, Bourbon Street), featuring Buffalo Trace whiskies presented by master distiller Harlen Wheatley. This event really marked a shift in gears — instead of a bunch of cocktail fiends all milling about, the Bourbon Academy was composed primarily of locals who'd come to drink some really fine whiskey and to have some incredible food. I wound up sitting next to a vice-chancellor for the University of New Orleans, who had decided to skip his usual Friday-afternoon Scotch tasting with his friends to come to this event (he also revealed that he lost his house, and an extensive Scotch collection, to the flooding following Katrina).
Starting off with Mint Juleps made with Buffalo Trace bourbon (they also had "New Fashioneds," which appeared to substitute blueberries for the bitters in an old fashioned — I stuck with the juleps), the restaurant served up hors d'oeuvres including smoked catfish on crab mousse, and a bacon-wrapped jalapeno duck & quail popper. This was followed by "pickled" crawfish and green tomato salad, paired with Eagle Rare Single Barrel 10 year bourbon.
As an intermezzo, the restaurant served a sorbet; nothing unusual there, but this sorbet was a Sazerac sorbet, made with the new Sazerac 6-year rye whiskey, a product that is popping up all over the place out here, along with some Herbsaint.
Then, the gloves came off — short ribs braised with orange and a lot of bourbon were paired with a snifter of Weller 12 year bourbon, possibly my favorite bourbon to keep around the house. Finally, a coffee mousse made with Blanton's single-barrel bourbon came for dessert.
While I can't say I learned a great deal about whiskey from this event (other than the fact that Buffalo Trace completely rocks), it marked nearly three hours of undisturbed bliss.
After swinging back by the hotel, I decided to catch the special cocktail tour that Gray Line offers of the bars around the French Quarter. I'd been informed that this was a great event, and to try to get a certain tour guide who makes it all worthwhile; unfortunately, we wound up with a pinch-hitter who, while very nice, managed to screw up several details about spirits and cocktails within the first few minutes of the tour, and turned the event into a promotional spiel for Southern Comfort (the promoter behind the event). Fed up, my little group ditched the tour at the Napoleon House, where we ordered Pimms cups as a swarm of cocktail luminaries — Robert, David, Audrey, Ryan, Jared, Anastatia, etc. — took over the bar, and suddenly the afternoon looked brighter. After the Pimms, followed by a Sazerac, I headed back to the hotel for a long interview with one of the VIPs for an upcoming story (more details will eventually follow).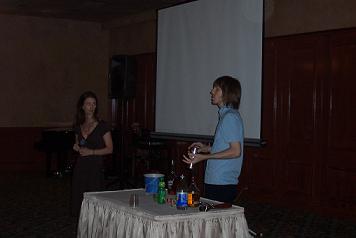 The evening event drew a big crowd — more than 100 tickets were sold, and that's not even counting all the badge-wielding freeloaders like me who crowded inside, demanding amusement and free drinks. Fortunately, we got both — the event focused on New York cocktails, and was hosted by Chad Solomon, a freakishly talented bartender at Pegu Club and Milk & Honey, and Christy Pope, a bartender at Milk & Honey (who I'm sure is also freakishly talented, if only I'd gotten to know her better). They showed a long film clip of interviews with David Wondrich about the origins of cocktails in New York, and traced the history of drinks, starting from whiskey cocktails to old fashioneds to the Manhattan, talking about Jerry Thomas, blue blazers and every other related topic as they went.
Then, after nearly an hour-long history lesson, the drinks started flowing (Ryan Magarian and David Wondrich handled the mixing, while Chad and Christy talked) — first came an early version of the Manhattan, made with equal parts whiskey and vermouth; this was followed by an original 1915 (or so) version of the Aviation, using Monin Violet syrup mixed with vodka in place of Creme de Violette, along with Luxardo maraschino, lemon and gin. They then proceeded to modern classics, starting with Audrey Saunders' impeccable gin-gin mule, and finished with a Silver Lining, created by Milk & Honey's Joseph Schwartz, which is basically rye, lemon juice, Licor 43, egg white and club soda.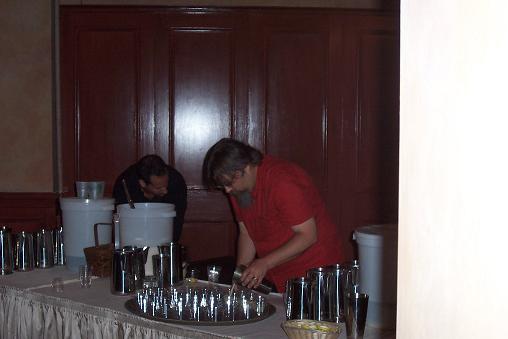 The crowd got rowdy at times — Chris McMillian, formerly the bartender at the Library Bar in the Ritz Carlton, before Katrina knocked it out of business, had to stand up at one point and, in his bellowing southern voice, tell everybody to shut the fuck up — but overall it was a great event. I even managed to score a recipe for a new house cocktail at Pegu off of Chad, which I'll be sure to post once I'm home and have had a chance to give it a spin.
Now, still mostly sober and ready to make it a (somewhat) early night, I'm seeing the wisdom of my slow-and-steady approach to today. Tomorrow, of course, I'll probably be blotto from 9 am onwards, but right now I'm feeling pretty virtuous.