Sorry for the delayed post – I'm sure a few folks figured I'd fallen into a giant Pimms Cup and was never seen again, and they wouldn't be far from the truth, but the reality is I was so wiped out after days of cocktail-related seminars and shenanigans that I just didn't have the energy to post on Saturday night, and since then I've been traveling and getting back into regular life — you know, the kind of days that you don't start by sipping absinthe, followed by rounds of whiskey.
But suffice it to say that on Saturday morning at Tales of the Cocktail, every eye in the house was bloodshot and every hand had a tremor. All systems normal, in other words.
It was one hell of a hot morning, 90 degrees by 9:30 am, and I soaked through my shirt while just taking a walk around the French Quarter. Fortunately, the first event of the day was air-conditioned, and a cool room full of hungover people was the perfect setting for "Books & Beignets," a panel about writing about drinking. Led by David Wondrich, the panel included Anistatia Miller & Jared Brown, authors of many cocktail manuals and editor and publisher, respectively, of "Mixologist: The Journal of the American Cocktail"; Ted "Dr. Cocktail" Haigh; and St. John Frizelle, a writer from Brooklyn who's been researching one of my favorite drink writers, Charles H. Baker, Jr.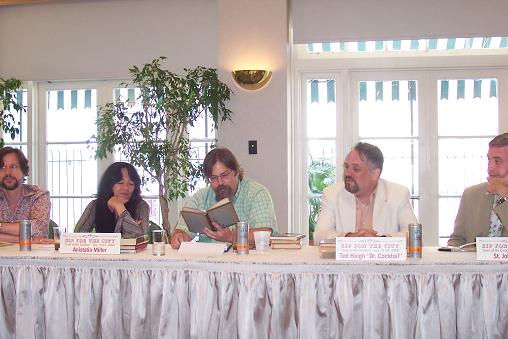 This seminar was a bit more subdued — instead of cocktail tastings, there was Starbucks coffee to try to get the engines running — but Jared got things flowing by reading from an essay by Irvin S. Cobb, a distinctively Southern writer from the early 20th century who covered what he called a "civilized and rational indulgence" in books such as Red Likker. Ted Haigh followed, reading snippets from Carl Van Vechten's Parties, along with parts from The Hour, by martini-fueled curmudgeon Bernard DeVoto, and from another favorite of mine, Alma Whitaker's 1933 manners guide, Bacchus Behave. Anistatia picked up with readings from Kingsley Amis' On Drink, and then ventured into Hemingway's Farewell to Arms, in the lengthy hospital scene where bottles of brandy and vermouth play significant roles. Frizell read purely from Baker's faux-Victorian Gentleman's Companion and South American Gentleman's Companion, while giving a more detailed glimpse of Baker's background and life than I'd ever encountered. Wondrich then finished the event with readings from a cocktail hoax perpetrated by H.L. Mencken, a short bit from the Brooklyn Eagle on "morning glories" (in the same vein as "fog cutters" and "corpse revivers"), and a segment from an old anti-Catholic book called Father Tom and the Pope, from 1838.
After the seminar, I was about to watch Dale DeGroff's presentation on tequilas, when something else came up. On Friday, you'll recall, I quickly became unhappy with a tour of New Orleans bars and restaurants and ditched it early on; having become aware of this, the organizers of the tour offered to give me and my small group a private tour led by Joe Gendusa, a former teacher and tour guide who'd been recommended to me by almost everyone at the conference. Of course, we leapt at the chance, and Joe led us on a two-and-a-half hour tour of a few French Quarter institutions–leading us up Bienville Street past the Old Absinthe House, and on to Arnaud's, a vast and elegant restaurant with the Richeleu bar, a former speakeasy with massive old mirrors and heavy wooden benches lining the walls, and the French 75 bar, a more casual establishment with faux-jungle decor such as chairs upholstered in leopard-print patterns, and carved monkeys wearing fezzes, holding lamps with zebra-skin shades. Joe then led us upstairs, to see the small museum devoted to Arnaud's daughter, Germaine Wells, who lived her life as a princess (long-trained gowns, tiaras, sceptres and all) and was a legendary New Orleans character for many years.
Joe then took us to Antoines, another massive New Orleans restaurant that unfortunately suffered great damage in Hurricane Katrina, both physical and emotional — in addition to part of the roof collapsing, the restaurant lost 22,000 bottles of wine, and its maitre d' for the previous 54 years drowned in the flooding. Joe took us through some of the restaurant's many alcoves and dining rooms, including the "Mystery Room," once a speakeasy and now the temporary main entrance; the Hermes, Rex and Proteus rooms, all named for the Carnival Krewes who regularly meet and dine there; and the 1840 room, for Antoine's family.
Joe left us at Court of the Two Sisters, another historic New Orleans institution. From there, we tried a minor bar crawl, heading to Lafittes Blacksmith Shop for Sazeracs and Obituary Cocktails, the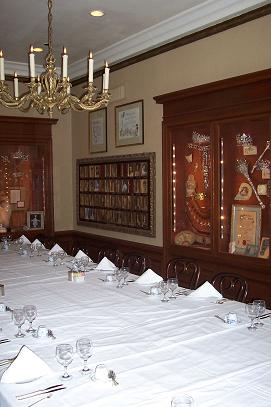 n after a quick bite at Remoulade, over to Tujagues for the best Sazeracs I'd had all week (though still kind of on the sweet side), and where we bumped into Robert Hess, Martin Douderoff and Audrey Saunders.
The night dissipated into a swirl of thunderstorms, gumbo and whiskey, and that seemed to be a fitting end to Tales of the Cocktail. After breakfast with Jeff Berry and his wife, Annene, I flew home Sunday morning, missing the few remaining events.
To wrap up Tales of the Cocktail, I've got to encourage everyone to set aside some time next summer and put together a little cash to make sure you don't let this event get away. The price for everything was remarkably reasonable, and the benefits of being around a swarm of other spirits-heads and cocktail geeks are indescribable. I'm already planning my strategy for next year, and you should be too. Head over to Tales of the Cocktail's website, bookmark it, and keep coming around until you see info for 2007. I hope to see everyone there.