In case I hadn't mentioned it — and I hadn't, as I never assume I'll be doing anything until I'm actually doing it — I'm spending the next few days in New Orleans, attending Tales of the Cocktail, a four-day series of seminars and events focusing on the history and significance of the cocktail. And after just a few hours, my initial verdict is:
I am such a fucking geek.
OK, it's New Orleans, capital of music, culture, culinary wonders, and everything else that's great (and obscene) about America, and what have I gotten worked up about today?
*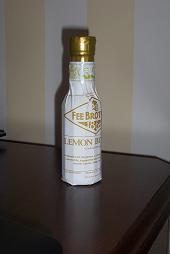 meeting Joe Fee — as in Fee Brothers' Bitters — in the elevator as soon as I got into town, having him ask me "Are you into cocktails?" (that's like asking a little kid "would you like to see a puppy?"), then hand me a bottle of the new Lemon Bitters that Fee's is rolling out in the near future.
* going down to the Carousel Bar at the Hotel Monteleone, where I'm staying, then trying to keep pace with Phil Greene (descendant of Antoine Peychaud and co-founder of the Museum of the American Cocktail) as the bar spins, then finally sitting down and striking up a conversation with the person sitting next to me, who turns out to be Jeff "Beachbum" Berry, and having an incredible hour-long discussion about tiki drinks with him before–
* hopping off the carousel bar — it really does get disorienting after a couple of rounds — and literally bumping into Ted "Dr. Cocktail" Haigh, Robert "Drinkboy" Hess, Gwydion Stone and Audrey Saunders, then–
* heading out to drinks and dinner (through an unexpected, though very mighty thunderstorm) at Cafe Giovanni with the aforementioned group, along with Ryan Magarian and, coincidentially enough (considering I posted about his book less than 36 hours prior) Wayne Curtis — with whom I had a great conversation about rum, cocktails and writing — and while we ate, having Dale DeGroff, Tony Abou-Ganim and Paul Harrington stop by the table, then–
* having a nightcap — a fairly shabby one, unfortunately — at the Old Absinthe House, which (I'm told) recently reinstalled the bar — the actual, physical bar — that Patrick Gavin Duffy used to tend, way back in the day 70 years ago or so.
Do I remember the food? Do I remember the music I heard (aside from having "Ave Maria" belted in my ear by an amateur opera singer at the restaurant)? Do I remember any cultural issue whatsoever, beyond what I had to drink, and which cocktail luminary I was with as I drank it?
No. And why?
Because I am such a fucking geek.
Stay tuned — more geekishness to follow….