Embarking on a tiki quest can be one long series of disappointments. You come across a recipe in Grog Log
or Sippin' Safari
, it sounds fantastic, you set out to make it and — dammit! you have no guava nectar. No problem — there's this recipe a few pages further, it sounded good last time you looked at it, but — hold on, you needed to start working on the syrup for this three days ago. So you flip around in the book some more, find something else that seems like a drink you absolutely must make right this very minute, but — Jesus! who ate the goddamn grapefruit!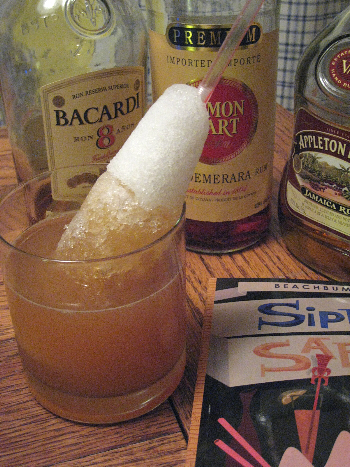 I first read this recipe around nine months ago, when I was working on an article about the Bum for last May's issue of Imbibe, and I managed to wheedle a few Sippin' Safari drink recipes out of him in advance so I could break out the booze and start working on a few of Donn's rum rhapsodies without having to wait for the book to hit the shelves. I even ran this recipe in the story, but the thing is — I never made the drink. Not because the list of ingredients calls for anything that distinctive, but rather, it was the drink's finishing touch that kept me away.
I regret to say I've been mixing out of Jeff's books for about two years now, but I haven't tried my hand at an ice cone until tonight (or, last night really — since it's another of the damn things you have to start planning for in advance). But, I finally broke down and bought an ice shaver — perfect timing, what with summer crapping out on us early up here in the Pacific Northwest — so between me and Mr. Snowman
, we're ready to take a crack at the Luau Grog.
Luau Grog (from Beachbum Berry's Sippin' Safari)

3/4 ounce fresh lime juice
3/4 ounce grapefruit juice
3/4 ounce soda water
1 ounce honey mix*
1 ounce gold Puerto Rican rum
1 ounce dark Jamaican rum
1 ounce Demerara rum
dash Angostura bitters
2 ounces crushed ice

Put everything in a blender (ice last); blend at high for no more than 5 seconds, and pour into a double old-fashioned glass. Serve with ice cone**.

* honey mix – equal parts honey and hot water, stirred until honey is dissolved, and allowed to cool to room temperature.

** ice cone — shave a heap of ice, and pack it into a pilsner glass. Run a chopstick down the middle to make a hole for your straw, and freeze overnight.
Very, very similar to the Navy Grog, the Luau Grog has a lovely balance among the rums, with the honey and the grapefruit pulling in different but complementary directions. And while it's mainly for appearance, the ice cone really is a nice touch — it gives one last little burst of chill to each sip of the drink, and it's a refreshing step away from the mundane of the everyday. Which, when you come right down to it, is kinda what tiki is all about.