So, I guess everyone's getting ready for the big feast on Thursday, and OH HELL, STOP THE PRESSES! THERE'S BIGGER THINGS THAN THANKSGIVING AFOOT!
That's right — Fritz Maytag has been experimenting with his still again.
In case you don't drink in San Francisco and haven't read Erik's blog lately, you may have missed the news that Maytag — the mastermind behind Anchor Steam beer (and its incredible Christmas ale, which I plan to start hoarding in the next few days), Junipero gin and the range of Old Potrero whiskies — has a new product coming out: Genevieve, a pot-distilled genever-style gin.
In typical Anchor fashion, Maytag has totally ignored the market trend toward lighter, less intense, gentle, floral gins, and instead is producing a robust spirit that, on first sip, had me thinking "chewy." (Full disclosure: a sample was submitted and accepted for review). A quick primer for those unfamiliar with genever: if you hear the name "gin" and expect a crisp, dry spirit tasting of juniper, citrus and other botanicals, you're gonna be mighty surprised at the first sip of genever (which also travels as Hollands gin, Geneva gin and Schiedam-style gin). Distilled at a lower proof than the neutral spirits used in London dry and Plymouth gins, the spirit has a much earthier, maltier, even funkier quality; match that with the botanicals (yes, the juniper is still there) and you've got a big wave of assorted flavors coming at you from the glass.
I love genever, though I haven't had the chance to love it that much — I can only recall trying the jonge product from Boomsma, which more knowledgable palates than mine have pronounced "meh," though I didn't think it was too bad; Boomsma's oude, which was more in the direction of a malt whisky than a gin; and the Bols genever, poured from a flask by Philip Duff, which left me with a great dichotomy of feeling: delight, at the rich malty character of the gin, and dismay that I'll have to cross an ocean to buy a bottle.
So if genever won't come to the United States, Maytag is willing to make his own, and we're all the better for it. I had the pleasure of interviewing Maytag about a year ago while working on an article about rye whiskey for Imbibe, and I consider it a significant experience in some ways, in that he struck me as one of those people who is driven by a higher pursuit — not of profit or fame, necessarily, but of truth. It seemed to me that for Maytag, "truth" meant (at least in part) discovering the full potential of a spirit — exploring ways that grain can fully express itself through distillation and aging, and understanding how that expression can be harnessed for a more pure epicurean experience. The results can sometimes be academic, I'll admit; I find the Old Potrero whiskies absolutely fascinating, for example, but they can also be bookish and intense rather than graceful and welcoming — while I'm always bowled over by the flavor, I rarely get a hankering to sit down and just sip at one (though the limited edition Hotalings is a notable exception).
But the result can also be as engaging as it is sensational — just look at Junipero — and I think the Genevieve falls into this category. Sure, it's never going to be a top seller — c'mon, it's genever, and even a top-flight version is going to have a very limited audience — but it is pretty damn good, and as Eric Seed is busy demonstrating over at Haus Alpenz, having a pretty damn good spirit that appeals to an admittedly limited audience of avid enthusiasts is still a very nice thing to have.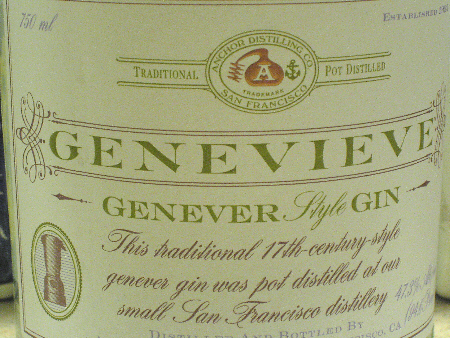 Genevieve uses a mash of malted wheat, barley and rye, and is distilled in a copper pot still with the same botanicals that appear in Junipero. Since it comes off the still at a lower proof, the spirit bears more resemblance, flavor-wise, to an unaged whiskey than it does to a neutral grain spirit like those produced by ADM and utilized in so many gins and vodkas you see. Bottled at 47.3 percent ABV, Genevieve comes up somewhat hot on the nose, but with a crisp juniper aura blended with the musty dryness of the rye and barley. Tasted neat, the gin is a bit intense, but with a few drops of water or a little quality time spent with an ice cube, the Genevieve softens up, presenting the "chewy" aspect I noted earlier, with the full flavor of the grain forming a light but firm base against the brighter, crisper notes of the juniper, citrus and other botanicals.
As David Wondrich notes in Imbibe!
— which you've all purchased by now, right? Well, what are you waiting for? — many of the vintage cocktails prepared during mixology's baroque era were constructed using Hollands gin (and before anyone chimes in with a correction — how ya doin', Erik — Wondrich does note that the lighter, jonge-style genevers are a relatively recent phenomenon, and that the old recipes had the heavier, oude-style genever in mind. In my admittedly limited experience, I would think Genevieve bears more in common with a jonge genever than a corenwyn or oude genever. Still, it's here, it's good, and as Wondrich also notes, "[jonge genever] still makes a far richer and tastier plain Cocktail than the lighter English gins," so go ahead and give it a shot.)
I've only tried Genevieve in one drink so far, the Improved Gin Cocktail (the recipe for which is slightly different than the one Wondrich ran in Killer Cocktails, and that I wrote up a long time ago using Boomsma), but it came through beautifully, the flavors of the absinthe, maraschino and bitters adorning the base like a Christmas tree. Geneveive and other genever-style gins may not be nearly as versatile as the more common London drys, but as long as I can mix a few of these divine cocktails, I'm happy to spend the time, money and effort to keep genever stocked in my liquor cabinet.
Improved Gin Cocktail (adapted from IMBIBE! by David Wondrich)

2 dashes Angostura bitters [I decided to use Peychaud's, to good effect]
1 tsp simple syrup (even better if it's a rich demerara syrup, 2:1 sugar to water)
1/2 tsp maraschino liqueur
1 dash absinthe (I used Jade Edouard — what the hell, good booze meets good booze, and I'm the big winner)
2 ounces Hollands gin

Stir well with ice and strain into a chilled cocktail glass; twist a piece of lemon peel over the drink. As Wondrich notes, "to contemplate it is to desire it."