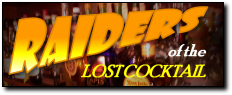 Slipping in with just minutes to spare, one more entry for Raiders of the Lost Cocktail.
Anita chose Benedictine as the ingredient this round, and according to the ground rules:
* Each month, the [previous month's winner] will select a cocktail ingredient, which is accessible but not currently in vogue.
* Each month, readers are invited and challenged to scour all published sources (old books, new books, red books, blue books… plus magazines, databases, matchbook covers) to find worthy cocktails that use this ingredient, and potentially merit revival and rediscovery.
* Entries must be previously published recipes, and include recipe, source, author, and when possible date of publication.
* Recipes don't have to be unique to that publication.
* Entries will be judged on overall quality and appeal.
* Preference will be extended toward recipes which use relatively common ingredients, thus allowing this recipe to be prepared at a wider majority of bars.
* Preference will be extended toward recipes which are "simpler" in nature (i.e., fewer ingredients without a complicated or burdensome construction)
Well, color me repetitive, but when the topic is "Benedictine cocktails," there's one that always springs first to my mind, in part because it's an intriguing once-forgotten classic, but also because it's just so damn tasty that it's usually on my mind to begin with: the Cocktail a la Louisiane.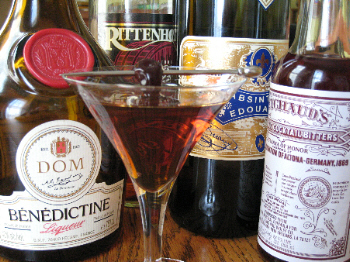 I first came across this drink while trolling in the backwater over at Chuck Taggart's Gumbo Pages, but it wasn't until I saw the recipe again, in Stanley Clisby Arthur's Famous New Orleans Drinks and How to Mix 'Em
, from 1937, that I clued into the idea that I really should try it out. Y'see, at first glance the Louisiane looks like a sugar bomb — rye, a liqueur and sweet vermouth in equal parts, with a couple of dashes of pastis — but this is one of those drinks that has an alluring alchemy about it, that is able to rise above the level of mere sweetness and become something entirely new.
Interestingly, I've only ever seen this drink listed in one other cocktail guide: Bottoms Up
, by Ted Saucier, which came out in 1951 (my copy, anyway); the recipe was near identical (everything was bumped up a notch in volume, but proportions remained the same). And then, nothing (though if someone's spotted it in a guide that's come out in the last couple of years, let me know) — which really astounds me, given the drink's relative similarity to the Sazerac and Vieux Carre, along with its undeniable deliciousness.
One of the provisions for the Raiders challenge is that the ingredients be somewhat common, so a curious drinker would be able to order it in a bar. I think the Louisiane comes close: perhaps the most obscure ingredient in it is Peychaud's bitters, which are popping up with greater frequency; rye isn't too hard to find anymore, if you'll go for Old Overholt, and practically everybody has sweet vermouth. There's also room to goose up the quality of the drink: a few dashes of pastis are required, which in most bars means a little Pernod or Ricard; if you're lucky, the bar will have some Herbsaint on a shelf, that adds a little extra authenticity to this New Orleans drink, along with a little ruggedness; and if you're really lucky, your bar has supplemented its pastis selection with a bottle of Lucid or Kubler, genuine absinthes that will elevate the drink to another dimension.
Anyway, here you have it: my former favorite cocktail of Autumn 2006, now in my recurring list of favorite drinks of all time:
Cocktail a la Louisiane

3/4 ounce rye whiskey
3/4 ounce sweet vermouth
3/4 ounce Benedictine
3 dashes Pernod/Ricard/Herbsaint/absinthe
3 dashes Peychaud's bitters

Stir well with ice and strain into chilled cocktail glass. Garnish with a cherry.
* (and if the photo looks familiar, I snagged it back from a post I did on this drink for Serious Eats.)