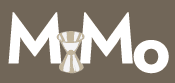 We're up to round 32 for Mixology Monday, which takes place this coming Monday, October 13. Hosting this round is Stevi at Two at the Most, and Stevi has chosen Guilty Pleasures as her theme. In her words:
October's Mixology Monday will be a tribute to our guilty pleasures. Write about that one cocktail that, no matter how many times you're told it's no good for you, is the one near and dear to your heart. Feel free to celebrate your drink in all its pre-mix glory. Or try to dress it up, show us that when made right, it's a worthy drink, we've just misjudged it.
Be sure to read the whole announcement post over at Stevi's blog, especially the part about participating: after you've posted your drink (by midnight wherever you are on Monday), be sure to e-mail Stevi (at stevi.deter[AT]gmail[DOT]com) the following info: Your name, your blog's name, the URL for your post, and the name of your drink. (Also, it'd be great if you could use the MxMo logo in your post, along with a link to the host's and the Mixology Monday blog; that way everyone gets a little traffic and winds up happy at the end of the day).
It's confession time, people–let's hear the dirty little secret of what you like to drink when nobody's around to rat you out to the cocktail-geek police. I'm actually kind of frightened about what I'm likely to discover about some people, but I'll see you there on Monday.