It's early autumn in Seattle, the time when typically the rain starts to fall, the days grow short and everybody starts to retreat indoors for the next nine months. Being the antisocial sort, I usually find myself staying at home for days on end at this time of year, except when the need for food, booze or cheap entertainment forces me out of the house. This weekend, however — thanks to an unlikely combination of the Munat brothers and Martin Miller's Gin — I found myself at two fantastic events that managed to cover the food/booze/cheap entertainment bases more thoroughly than I ever could have expected.
In case you're one of the few people remotely interested in cocktails who have not yet been friended by them on Facebook, the Munat brothers are an unruly trio (though there are additional siblings, guest siblings and honorary siblings, if that's the right term, which I'm quite certain isn't) of booze-addled freeloaders whose self-described primary goal in the mixology world is to devise a way that will allow them to never again pay for their own drinks. As with the invention of a perpetual motion machine and the creation of a worthwhile cocktail that includes Apple Pucker, many have ventured down this path in the past, only to have failed miserably.
Never ones to give up, at least when free drinks are concerned, the Munats somehow managed to convince the folks at Martin Miller's Gin to sponsor a couple of events this weekend: The first, a party dubbed "Le Mixeur Cinq" (named after an obscure and eerily poetic drink blog and celebrating, I believe, an assortment of five French egg-beaters), and the second, a cocktail-pairing dinner at Elemental, one of the stars in the Seattle culinary cosmos.
Never one to turn down free (or cheap, anyway) drinks myself, I swung by Le Mixeur Cinq on Saturday night. Learning from their experiences from hosting Le Mixeurs Un through Quatre, the Munats apparently realized that less work would be required (on their part, anyway) if they trashed someone else's home instead of their own. Managing to cadge not only free drinks but an offer to host the party from Vessel bartender Zane Harris and his girlfriend Anu Apte, the Munats took over the bar — no, really, there's a full freakin' bar in Zane & Anu's loft — and proceeded, over the course of the evening, to knock out an estimated 700 cocktails for a crowd that Zane gauges around 200, and that included such luminaries of Seattle's booze scene as Robert Hess, Jamie Boudreau, Gwydion Stone and Stevi Deter, along with Anita and Cameron from San Francisco and a whole slew of lushes who somehow made their way onto the Munat's mighty e-mail list.
Cocktails on the menu were devised by an assortment of West Coast bartenders, who had also been suckered into contributing drinks — I particularly liked the Smallflower, created by Zane, and the Spiced Marmalade, from Kevin Diedrich — and were prepared by a group of bartenders that  included seasoned pros such as Jon Santer and Zane, along with the Munat brothers and additional willing and over-worked volunteers.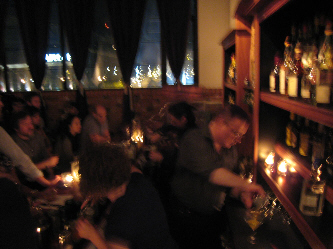 When Ted and Charles Munat manned the bar, though, it was something to behold (not that you can tell from my horribly blurry photo; hopefully Anita got something better): Fully embracing the ethic of the Slow Food movement, the Munats not only used the freshest ingredients, but they also made certain that guests had time to enjoy the drinks by moving at a pace that resulted in a 30-minute (or longer) wait at the bar at times. It was a brave and risky stand to make for sustainability, but ultimately the planet and our palates owe them thanks.
As if cajoling innocent bartenders into turning over their homes and their booze wasn't enough, on Sunday the Munats proceeded to take over one of the city's finer restaurants. Elemental at Gasworks is a small and intimate place, owned by a couple, Phred Westfall and Laurie Riedeman, who are trying to run an honest, ambitious restaurant during difficult economic times.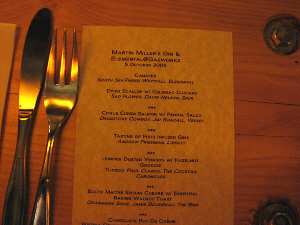 Taking advantage of their generosity — not to mention the free labor they wheedled out of some of the city's finest bartenders, including Andrew Friedman from Liberty, Jamie Boudreau from Tini Bigs (oh, like it's still a secret anymore), David Nelson from Spur, Jim Romdall from Vessel, and Andrew Bohrer from Everywhere, along with some last-minute assistance they hit me up for last week — the Munats talked their way into another allocation of gin from Martin Miller's and then waited to see what would happen; here's the menu, so you have an idea of what was served (though I managed to neglect writing down the drink ingredients, so you'll have to let your imagination work out some of the details).
Canapes, served with a North Sea by Phred Westfall, Elemental

Diver Scallop with Celeriac Custard, served with a Sad Flower, from David Nelson, Spur

Citrus Cured Salmon with Fennel Salad, served with a Drugstore Cowboy, from Jim Romdall, Vessel

Tasting of four infused gins, prepared by Andrew Friedman, Liberty

Juniper-dusted Venison with Hazelnut Gnocchi, served with a Tuxedo, from Paul Clarke, The Cocktail Chronicles (*blush*)

Buche Maitre Sequin Chevre with Essential Baking Walnut Toast, served with an Okanagan Sour, from Jamie Boudreau, Tini Bigs

Chocolate Pot de Creme, served with a Wistful Cricket, from Andrew Bohrer, Everywhere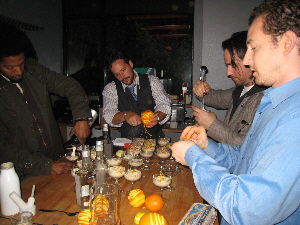 What happened was absolutely brilliant. Turning the typical meal-cocktail pairing event on its ear, dishes were constructed around the drinks, instead of the other way around. This was pretty confusing at first (C. Munat's instructions to me consisted almost entirely of the single word, "Savory"; pressed to elaborate, the response was basically "Meat. Red."), but once cocktail recipes were sent to the restaurant, Phred and Laurie worked with the flavors and came up with some phenomenal dishes. A couple of the pairings were a little squiggly, and some were spot-on; overall, it was a fantastic meal that hopefully exposed a lot of local people to Elemental, the participating bartenders and the bibulous brilliance of Martin Miller's Westbourne Gin. Plus, C. Munat wormed his way into extra dessert, which he no doubt got for free.
So thanks to Martin Miller's Gin, to Zane and Anu, to Phred and Laurie at Elemental, to all of the participating bartenders who pitched in and against all odds kept me from making a total ass of myself when mixing drinks for 30, and to everyone else who busted their asses to make this weekend's events such woozy-memorable experiences. Thanks also, I suppose, to the Munat brothers for being such shameless mooches that they came up with a perfect party space, a great restaurant and several cases of booze, and for being generous enough to share it with us all, you bastards.