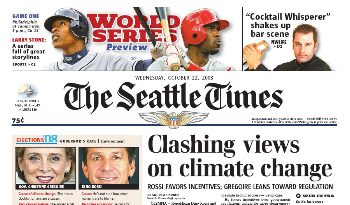 Smirk all you like, ye denizens of New York, San Francisco, London, and all the other cities rich with bars serving nothing but well-crafted cocktails — but how often do you wind up with a bartender on the front page of one of your city's daily newspapers?
Seattle can be a sleepy place at times, but at least our papers have their priorities straight. Above news about trivial stuff such as the upcoming election, climate change and the ongoing financial meltdown, the editors at the Seattle Times posted a photo of one of our fair city's finer bartenders, Jamie Boudreau (bearing his self-designated title of "cocktail whisperer") — a teaser for a story that appears in the Living section, titled "At Tini Bigs, a tale of transforming cocktails."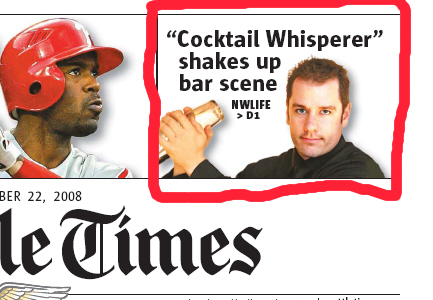 The reason Jamie's in the paper? Let me explain something for you non-Seattleites. For many years around town, in circles devoted to finer things in food and drink, Tini Bigs was considered something of a punchline bar — occupying prime real estate between the Downtown / Belltown core and the densely populated Lower Queen Anne, Tini Bigs has always been a very busy place, and certainly has had its share of devoted fans over the years. But despite its popularity, Tini Bigs was never a bar that was seriously in the running for turning out paradigm-shifting cocktails (proof? check out their bar menu, now apparently defunct but still on their website; plus there's the name: Tini, as in martini, as in everything that goes in a cone-shaped glass is one; and Bigs, as in the size of your drink, as in their signature 10-ounce glasses). While it was probably the place to go in town to get a Dirty Girl Scout or a Copa-Banana Martini, in terms of quality drinks it was light years away from what was going on at Zig Zag, Vessel, Licorous, or any of a number of other bars around town.
Until recently. Back in August, I ran into Jamie at Zig Zag less than half an hour after he'd been offered the job at Tini Bigs, which he took with the assurance that he could work to transform the bar into a place where well-crafted, appropriately proportioned cocktails would be served. Sworn to secrecy until he'd had a chance to work up a new menu and get things rolling, I managed to keep my silence — even though others blabbed about it publicly — until pretty recently. Now, with the new bar menu posted on Jamie's site and with front page attention in the Seattle Times, the cat is well out of the bag, and Tini Bigs has become the newest (though possibly also the oldest) addition to Seattle's burgeoning quality cocktail scene.
I may even have to move out of my downtown / Capitol Hill comfort zone and head over to First and Denny sometime soon. And while my initial impulse would be to try to make some kind of snide remark about Jamie — such as pointing out the quote from the Times story that I used in the headline — I'm mature enough to let it slide, and instead wish him and Tini Bigs the best of luck in becoming another fixture in Seattle's culinary cocktail landscape.