It's not even three weeks into the new year, and here I am already breaking my "don't blog" resolution by finally putting up a drink post (that Jan. 1st thing was more an announcement, so don't bug me with the details). What's prompted me to break my long blogging drought? Mixology Monday, what else, this round hosted by A Mixed Dram, and focusing on "New Horizons" — in short, mixing with stuff you don't usually use.
I'm perhaps more prone to habit than most, and as a result my liquor closet is literally overflowing with the predictables — rum, rye, gin, assorted liqueurs — and rather slim on spirits I rarely use, such as vodka, pisco and cachaca (though the good folks who market Leblon, Boca Loca, Cabana and probably someone else I'm forgetting have made sure I have plenty around should the mood hit). Shamefully, one of the spirits that rarely makes its way into my mixing glass is scotch whiskey. I suppose I have some excuse — as agreeable as scotch can be on its own, it has a predisposition to surliness when forced to room with other ingredients — but still, for a spirit that has such a wide flavor profile and so many appealing characteristics, it's one I rarely use (not that I dislike it in a cocktail, though — drinks such as the Blood & Sand or the Cameron's Kick are in my permanent repertoire).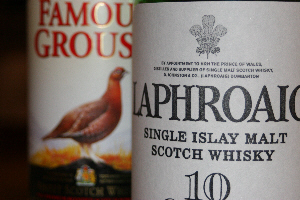 Here's a relevant cocktail that I've had scribbled in my notebook for a while, but until tonight have yet to put together: the Penicillin Cocktail. Created by Sam Ross of Milk & Honey in New York, the Penicillin is not only made with a base of blended scotch — which tends to have a gentle, mellow flavor that typically makes it more versatile as a cocktail ingredient than single malts — but it's served with a float of Islay scotch, a style of the spirit so bristlingly potent in aroma and flavor that it takes the blend's twin descriptors of "gentle" and "mellow" and smashes their little heads together in its burly grasp. Easing the meeting of the two is a good dose of ginger-honey syrup, along with a bit of lemon, which helps everything balance out.
Penicillin Cocktail

2 ounces blended scotch (I used Famous Grouse)
3/4 ounce fresh lemon juice
3/4 ounce ginger-honey syrup
1/4 ounce Islay scotch (I used Laphroaig)

Combine blended scotch, lemon juice and syrup in a shaker, fill with ice and shake well. Strain into an ice-filled rocks glass and float Islay scotch on top.

For ginger-honey syrup (my recipe; chime in if you use something different): combine 1/2 cup honey and 1/2 cup water in a saucepan over medium heat and whisk until well combined. Add an ounce or so of peeled, sliced fresh ginger and bring to boil; reduce heat and simmer for 10 minutes. Allow to cool completely; strain.
Wow — between the ginger and the lemon, the whisky's assertive tendencies are kept well in check. Not that they're suppressed — Laphroaig's trademark smokiness fills the glass, but the drink is balanced, enticing and, dare I say it, gentle.
That's my mix for this round of Mixology Monday; head on over to A Mixed Dram to see the roundup of all participants' posts.