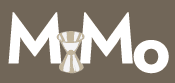 I've been at this cocktail thing a long time. A little more than eight years ago, if memory serves, I bought my first bottle of rye, tracked down a copy of David Embury's The Fine Art of Mixing Drinks on eBay (price: $10 — oh, how things have changed) and started mixing the hell out of everything. But over the years (as the dwindling frequency of posts here suggests), I've grown lazy and jaded on some issues related to creative drinks, and the transformative episodes of finding a rare spirit or tasting a paradigm-shifting cocktail are now fewer and much further between.
Still, I've had my moments, and some of these have been quite memorable, based largely on the olfactory experience of a particular drink. This isn't surprising, of course; the sense of smell has a tighter link to memory than any of our other senses (or so I recall reading somewhere, and it seems to make sense so I've stuck with it so far). And while I sometimes struggle to recall the precise flavor of a certain whiskey or of a once-mindbending cocktail, there are experiences I recall with complete clarity, due largely to the assertive aroma of a particular drink: the first Sazerac I had that was mixed with French absinthe (rather than Pernod or Herbsaint in those not-so-long-ago times when absinthe was still verboten), as the ethereal fragrance of green anise wafted up from the glass; or the moment at a Tales of the Cocktail past, as Eric Seed from Haus Alpenz poured sample cups of the not-yet-released Smith & Cross in a crowded tasting room and I caught the lascivious funk of the rum's aroma from a full 10 feet away. And another? The Gin Basil Smash is right up there.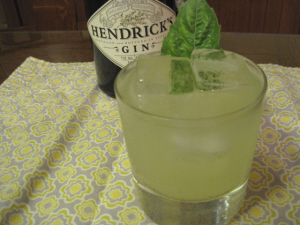 The Gin Basil Smash has a history that is blissfully short: created in 2008 by Jorg Meyer at his bar, Le Lion in Hamburg, the drink has reportedly enjoyed a good deal of popularity in Germany and environs (and is the only cocktail I know of that has its own Facebook page). The drink's composition is ludicrously simple: just a basic gin sour with the addition of fresh basil and the lemon shell, which you muddle together and shake before double-straining over fresh ice (or, more in tune with the drink's inspiration, a contemporary-style smash with the addition of basil).
Gin Basil Smash
by Jorg Meyer (adapted for us non-metric types)

2 oz. gin (I used Hendricks because it's decent, I have a lot of it in the house and the urge struck)
3/4 oz. fresh lemon juice (about half a medium lemon)
3/4 oz. simple syrup
1 bunch fresh basil
basil leaf, for garnish

Place basil and lemon shell in a mixing tin and muddle away (you can instead drop in half a lemon rather than a squeezed lemon shell, but you're ramping up your muddling work a little). Add the remaining ingredients, fill shaker with ice and shake well until chilled, about 10 seconds. Strain into old-fashioned glass filled with fresh ice. Garnish with basil leaf.
Anyway, whatever – the drink is absolutely delicious, yes, but it's also intensely aromatic. With a big bunch of fresh basil going into the mixing tin, the cocktail comes out alluringly green, but also enormously fragrant, impressing it all that much more on your memory the first time you tuck into one, while also making what would otherwise be a simple gin sour into a more three-dimensional drinking experience.
…which is kind of what this month's Mixology Monday is all about. The theme is "Come to Your Senses," and it's hosted over at 12 Bottle Bar. Head on over and see what everyone else has come up with–