Drinking is easy.
Learning how to make a decent drink — well, that's easy, too, but it requires a little more attention … attention, and resources, and most useful of all, some guidance from those who've ventured down the good-drinking path ahead of you.
For resources, you've got stuff like this blog, and this magazine, and these videos, and there's a whole slew of other books, websites and whatnot that can teach you everything from which brand of bourbon to buy to how to clarify lime juice or break down a spirit into its constituent elements.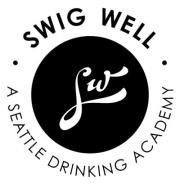 And now, if you live in Seattle, there are classes. Swig Well is a cocktail-education program (the preferred term is "drinking academy", with all its intended unfussy "drinking-is-fun" implications) organized by Rob Roy mastermind Anu Apte along with business partner Hallie McGee. Like similar programs around the country, Swig Well focuses on teaching its "students" how to drink (and prepare drinks) better, and how to better understand the character of what's in the glass.
Where Swig Well gets distinctive is in its approach: while Apte is teaching the inaugural class (this weekend!) along with other courses to come, she's reaching out to the broader bar community in search of instructors and topics. As a result, sessions may be relatively simple (as with this weekend's Halloween-themed class), designed to appeal to adventurous consumers, or the event can be an intensive look at aromatic compounds in cocktails or the science of shaking vs. stirring, designed for audiences of advanced cocktail nerds and longtime bartenders.
Most sessions will take place at Rob Roy and have an audience max of 10-ish, to provide a more intimate and interactive experience, though there will be some exceptions to both location and class size, depending on topic. Most classes will be in the afternoon (to work around bar opening times), largely weekends, though again, there may be exceptions. Class prices start at $75, which gets you a few drinks, an hour or hour-plus of a seminar by a learned professional, along with whatever swag that session may feature (there's talk of Swig Well-branded Moleskine notebooks for participants, along with items liquor brands or other sponsors may offer).
Anyway, Swig Well's first full-bore class is this weekend, the start of hopefully many more to come. For more info, swing by Swig Well's site, or go all 2011 and "Like" them on Facebook and follow Swig Well on Twitter.