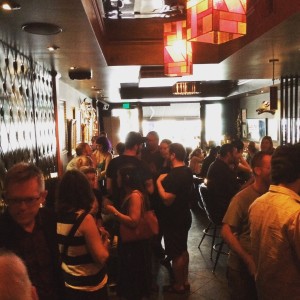 The hometown crowd at Rob Roy treated me right on Sunday for the special preview of The Cocktail Chronicles — but San Francisco, now it's your turn.
I'll be in the Bay Area for two back-to-back book events next week. No tickets required, no reservations needed — just show up, knock back some drinks, pick up a copy of the book and be sure to say hi while you're there. Details:
Monday, July 6 — 6-8pm
Bar Agricole
(355 11th St., baragricole.com, Facebook event page here)
Thad Vogler's been a big part of the Bay Area cocktail culture since its earliest days, and he's also one of the city's more talented and humble practitioners. So when Thad invited me to set up shop on the bar's patio for a couple of hours, I was absolutely honored. C'mon out after the long holiday weekend, and sip a drink with me on Monday evening.
Tuesday, July 7 — 6-8pm
Comstock Saloon
(155 Columbus Ave., comstocksaloon.com, Facebook event page here)
Jeff Hollinger and Jonny Raglin were among the pioneers of the West Coast cocktail renaissance, and on Tuesday evening, Jeff & Jonny are hosting me in the Monkey Bar at Comstock Saloon. True to form for such a signature San Francisco bar, we've got Pisco Punch and Pisco Bellringers, with Campo de Encanto Pisco, and the Partida Tequila is flowing in Jonny's Nouveau Carres, all for $7 during the event.
San Francisco's been a second home to me for much of my drinks-writing career, and I'm eager to see some familiar faces after the July 4th weekend. C'mon out–