I enjoyed a brief infatuation with this drink when I first became interested in the whole cocktail thing. Trying one now, I kind of remember why–it's not a terribly complicated drink, flavorwise, but it's not flat-out simple, either. Rather than using a sweetener to smooth out the tanginess of the lime, the Bronx Terrace uses dry vermouth, a flattening modifier that lends just enough complexity to keep the cocktail from being boring.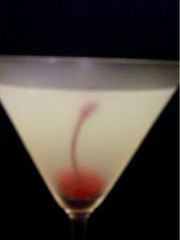 I know little about the Bronx Terrace, other than it's old–it appears in Patrick Gavin Duffy's Standard Bartender's Guide and in Harry Craddock's Savoy Cocktail Book, both of which were first published in the early 1930s. It's also a good drink for those times when you just need something different.
Bronx Terrace

2 ounces gin
1 ounce dry vermouth
1 ounce fresh lime juice

Shake with ice and strain into chilled cocktail glass; garnish with a cherry.