"This cocktail was introduced around here about thirty years ago by Frank Fogarty, who was very well known in vaudeville. He was called the 'Dublin Minstrel,' and was a very fine monologue artist."
So wrote Ted Saucier in 1951 when introducing this drink in Bottoms Up. Saucier credits the drink to the Detroit Athletic Club, and if the bartender's recollection is correct, that would place the Last Word as a Prohibition-era cocktail.
If that's the case, then the Last Word is one of the finest cocktails to come out of that bleak period in American history. Four ingredients–two of them fairly exotic–working in equal parts to create perfect harmony.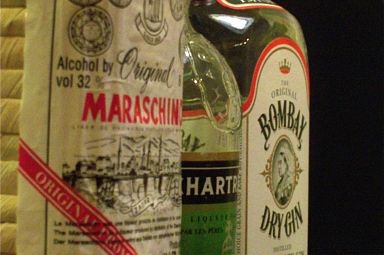 I first experienced this drink last summer, when the recipe initially caught my attention. Later, I found out that it's on the specialty cocktails menu at the Zig Zag Cafe, and since then I've been allowing myself the luxury of having Murray make them for me. From what Chris says over at Boston Cocktails, apparently the Last Word is getting around, showing up on the cocktail list at B-Side Lounge. And according to an old post on eGullet's Fine Spirits & Cocktails Forum, Pegu Club in New York offers a variation on the Last Word, subsituting rye for the gin and lemon juice for the lime juice. That's a great version as well, but for depth and complexity of flavor matched up with an elegant look in the glass, it's hard to beat the Last Word.
Last Word

3/4 ounce gin
3/4 ounce lime juice
3/4 ounce green Chartreuse
3/4 ounce maraschino liqueur

Shake well with ice and strain into chilled cocktail glass. Shut up and drink.