All successful insurrections begin over drinks.
OK, I have no evidence to back that up, other than a vague recollection that the Sons of Liberty gathered support for the American revolution in Colonial taverns, and that French anti-royalists plotted their rebellion in Parisian coffeehouses. But if this half-remembered notion holds true, what I witnessed earlier this week is the latest evidence that well-crafted cocktails may yet win out against the tyranny of frilly vodka drinks and sticky Jaeger shooters.
On Tuesday night, in an upstairs room at Oliver's in Seattle's Mayflower Park Hotel, the Museum of the American Cocktail held its second in a series of local seminars aimed at sloughing off the oppressive chains of bad drinks and improving the quality of the drinking habits of a group of curious imbibers.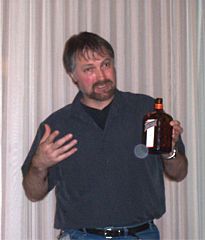 Robert Hess, aka Drinkboy, and Ryan Magarian, a beverage consultant and professional mixologist, were the Robespierre and Marat of the evening, and during the seminar—billed as "How to Stock and Use Your Home Bar"—they ranged far beyond the original theme. In between addressing basic Cocktail 101 questions such as, "What's the difference between bourbon and rye?" and "Bombay Sapphire is a good gin, isn't it?" Ryan and Robert urged the dozen or so participants to broaden their palates, explore spirits beyond vodka and experience well-crafted and well-balanced cocktails in order to understand the full range of the cocktail universe.
Ryan and Robert had a really effective approach: Walk participants step-by-step through the liquor store (figuratively speaking, of course), mentioning a few decent brands to purchase; briefly explain the basics of balance in popular drinks, using as examples familiar sour-type cocktails such as Sidecars and Margaritas; and demonstrate how to properly measure, shake and pour a cocktail. Beyond these basics, though, they ranged in every direction, and this is where I think the planners of MOTAC seminars should take future programs.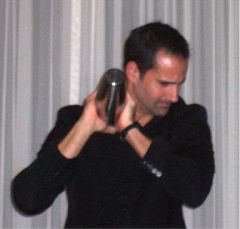 After the groundwork is laid, and a few dozen individuals around town have started mixing carefully measured 4:2:1 sidecars in their new Boston shakers, an array of smaller, graduate-level courses should come in (I know, the who's and where's and how-much-it's-gonna-costs all come into play, but this is a what-if I'm talking about). Some topics, spun off from the original seminars, would of course be of more limited popular appeal—how many people in the Seattle area, other than myself, would pay to spend an evening talking gearhead stuff like PUG muddlers and hawthorne strainers, after all—but more in-depth discussions of topics such as the world of rum or a night of gin cocktails would, I think, bring out at least as many people as I saw on Tuesday night. As with my previous experience at a Cocktails 101 event, my response, ultimately, is "more, please."
More: The third Seattle MOTAC seminar, "Shaken & Stirred: Everything About the Martini," takes place at Oliver's on May 2, from 6:30 – 8:00, with presenters Robert Hess, Ryan Magarian, Anistatia Miller & Jared Brown. Tickets and more information on this and all MOTAC seminars nationwide are available at the museum's website.