Almost every day for the past 20 years, coffee has been a part of my daily ritual — and by "part of my daily ritual," I mean the part that keeps me from being a sluggish, surly, cursing-at-passersby subhuman monstrosity. For the past three years or so, cocktails have also played a regular and significant role in that same routine. Yet, I've never had much desire to combine the two interests.

When it comes to coffee and spirits, the usual offerings are, I find, depressingly uniform. Most drinks are either of the "fill a mug with coffee, add SPIRIT X and sugar (or, optionally, LIQUEUR Y) and whipped cream" variety, or involve combinations of chilled coffee or coffee liqueur, brandy, creme de cacao and possibly another liqueur or two. Not surprising, given coffee's post-prandial popularity, but hardly the thing to send your tastebuds a-twitter.
So, after Darcy's decision to have Mixology Monday II focus on coffee (in all its various manifestations), I had to scratch my head and then go scurrying through the books in search of something interesting.
When "something interesting" is the operative search term in a cocktail quest, I've found that one of the best sources is Charles H. Baker, Jr. Traveler, writer and bon vivant, Baker was a magazine journalist for much of the first half of the 20th century, and he also authored two intriguing two-volume sets of food-and-drink recipes, stories and commentary: The Gentleman's Companion, published in 1939, and The South American Gentleman's Companion, in 1951.
For coffee, I turned to Baker's South American drinks volume, and quickly came across this concoction (rendered, as closely as possible, in the 19th-century style use of small caps and extended titles that Baker used in his books) :
Ski Club Andino Boliviano's HOT COFFEE-GROG, from the Club Chalet at foot of the SKI-TOW, some 18,000 feet above the Sea on Gigantic Mt. Chacaltaya, 40 miles or so outside La Paz, Bolivia.

In a big tall Zombie glass put:

2 oz 151-proof Demerara Rum [Ed. note — JESUS!]
1/4 tsp powdered clove
1/2 cup strong hot coffee
1/2 pony [1/2 oz.] good Jamaica rum
1/4 tsp ground allspice
1/4 cup hot water, not boiling
1 big long stick cinnamon bark
2 tsp strained honey or brown sugar

Put silver spoon in glass to prevent its cracking, pour in liquids, spice and sweetening. Stir with the cinnamon stick till sweet's dissolved. […] A spiral of orange peel is sometimes added. We like that touch.
How is this different from the coffee-spirit-sugar-etc. drinks I maligned above? Well, not a whole lot — except, the addition of spices ramp up the flavor quite a bit without contributing added sweetness, and even the 2 teaspoons of honey or brown sugar is fairly restrained, in terms of the dominant norm for coffee-based drinks.
Baker credits expatriate Brits in Bolivia of coming up with this drink. Why they chose to use 2 oz. of the knee-buckling 151-proof Demerara in this is beyond me (unless, of course, the primary purpose of this drink is to buckle the drinker's knees in as short a time as possible). Prudently, Baker follows this recipe with a warning:
Naturally ordinary 86-proof rums rate small-beer beside the mule-kick hidden in a pot of 151-proof Demerara, so be careful as you pour or you'll be shouting "Tim-BERRRRR!" as your guests topple and hit the tiles.
For my take at this grog, I heed Baker's warning and instead use 1 1/2 oz of the 80-proof Demerara, with 1/2 oz of the full-throttle variety to keep the flavor somewhat true to the original. I also replace the allspice and 1/2 tsp of the brown sugar with 1 tsp of Pimento Dram, as it's pretty much the same thing — allspice & brown sugar in a Demerara rum base — that's been allowed to mellow and marry for several months.
But while Baker's grog is a good fortifying drink to keep in mind the next time it turns frosty, another, somewhat-related beverage suggests a more exotic take on the coffee grog. In search of further coffee-drink-based excitement, I turned to the other name that pops into my head when thinking of interesting drinks: Jeff "Beachbum" Berry. In his Grog Log, Berry gives a recipe (without a source, unfortunately, beyond "circa 1950s") for a Polynesian relative of Baker's Coffee Grog.
Flaming Coffee Grog

3 teaspoons Lopez coconut cream
1/4 oz. Grand Marnier
Hot black coffee
Twist of orange peel
Twist of lemon peel
2 whole cloves
Eight-inch cinnamon stick
3/4 oz 151 Demerara rum

Heat and then ignite cloves, peels, Grand Marnier and rum in Pyrex saucepan or blazer pan of chafing dish. Fill skull mug 3/4 full of hot coffee, then stir in coconut cream. Spoon flaming mixture on top. Use cinnamon stick as stirrer.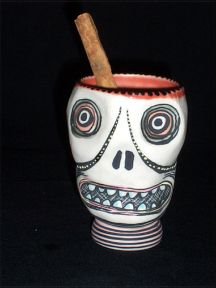 The benefits of Berry's coffee grog, as I see it, break down into three points:
it's mildly sweet, but not over the top — a big plus for coffee drinks
the coconut cream takes the flavor in an unexpected, and not unpleasant, direction
FIRE! Even better, FIRE IN A SKULL MUG! Talk about primal…. [Though, if you're looking for blue flames in the photo, you'll be disappointed — the rum flared up in the pan and kinda spooked me as I was preparing to ladle it into the mug, so I had to snuff it. Still tasted good, though.]
I found the coffee works well in this tiki environment, and the resulting drink is a far cry from the dull, dessert-tasting coffee cocktails you typically come across.
Thanks to Darcy for coming up with the theme, and for hosting this edition of Mixology Monday. I look forward to reading the wrap-up in the next day or so.
UPCOMING: Mixology Monday III will be upon us in June. The host for this edition will be Rick at Kaiser Penguin, and Rick has chosen mint as his theme for the month.
SAVE THE DATE – Monday, June 5, Mixology Monday III: Mint, hosted at www.kaiserpenguin.com
(And FYI, I've been updating the original Mixology Monday post to keep track of past, current & upcoming events, along with the original suggested guidelines, so the permalink should serve as a good reference for new participants.)