Sometimes a little variation on a theme is all that's needed to breathe new life into an old drink.
Take the whiskey sour. A lovely thing on its own, of course, and a dependable ally in an unfamiliar bar (as long as that bar has figured out how to squeeze a lemon, that is). But the whiskey sour is like the friend you call when you need someone to help you move, not the friend you think of when you've got a night off and the bright lights beckon.
But with a little makeover, the whiskey sour becomes a party animal. As proof, I present the St. Nick Sour, a drink I cadged from the current issue of Imbibe magazine (go get your copy to see the fancy picture — you have subscribed, right?). Simply our old buddy the whiskey sour, with a little orange juice to brighten the day and sweetened with orgeat, the delicate almond syrup. A variation in the vein of a Ward 8, the St. Nick Sour nonetheless takes the old WS in a pleasant new direction.
A devastatingly great and original cocktail? No — c'mon, it's a gussied up whiskey sour, what the hell do you expect? — but it is damn tasty, easy on the eyes and a good candidate for a crowd-pleaser, even for those who claim not to like bourbon. In other words, it's a perfect drink for a holiday party.
The recipe was contributed by Jeff "Beachbum" Berry, a man who knows a thing or two about crafting tasty concoctions. Berry says this is his choice of refreshment to leave out for St. Nick each Christmas Eve. Last Christmas, Berry's books Grog Log and Intoxica! helped make my season bright, so this year I raise his lovely St. Nick Sour to celebrate the holidays.
St. Nick Sour

2 oz. bourbon (I used Elijah Craig, with excellent results; you might also try it with rye)
3/4 oz. fresh-squeezed orange juice
1/2 oz. fresh lemon juice
1/4 oz. orgeat

Shake with ice and pour into an old-fashioned glass. Garnish with spiral-cut orange and lemon peels.
And if you've taken the time to match the above recipe with the one in Imbibe, you'll see I tweaked the drink a bit — Berry called for a full ounce of orange juice, which I dosed down a notch in order to keep a tart edge to the sour; and, his version called for 1 1/2 oz. of bourbon, which I increased to 2 oz. because … well, because it's Christmas.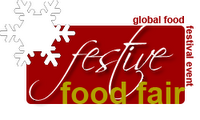 This drink is presented to mark the beginning (somewhat) of the holiday season, but it's also a submission for Anna's Festive Food Fair over at Morsels and Musings. Anna has been a great contributor to recent Mixology Mondays, and I wanted to join in the party for this debut event. Head on over to Anna's site to see what other folks are putting together.