(part of a series of posts on a recent panel tasting of 18 American rye whiskies that starts here. For more information on rye whiskey and additional tasting notes, pick up the January/February 2007 issue of Imbibe magazine.)
If Old Overholt traces its roots back to the early 19th century, Michter's goes back even further. The original distillery was founded near Amish country in Pennsylvania in 1753; after managing to survive a revolution, the Whiskey Rebellion and a civil war, Michter's temporarily met its match when the joyless biddies of the W.C.T.U. had it — and most every other distillery in the country — shuttered during Prohibition. The Michter's distillery sprang up once more after World War II, but only lasted 40-odd years before closing permanently in 1988.
As with almost all ryes nowadays, Michter's is made in Kentucky (by Kentucky Bourbon Distillers), in painfully small batches, but if you do a little footwork you can turn up a bottle or two. In addition to a 10-year-old bourbon and an unblended American whiskey (aged in used bourbon barrels), Michter's offers two types of rye: the US1 Straight Rye, a single-barrel whiskey aged 4+ years and bottled at 84.8 proof; and a 10-year-old Straight Rye, also single barrel and bottled at 92.8 proof.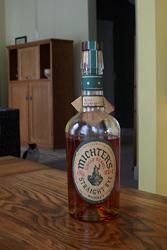 Michter's US1 Straight Rye Whiskey
The US1 has earned a reputation as an excellent mixing whiskey that also isn't too shabby on its own.
It has a nose that is good and spicy, but not too aggressive, with little hints of cherry and tobacco. Tasted neat, the spice is quickly followed by a subdued dryness with a mild fruitiness, and without a great deal of complexity. The finish is short, smooth and sweet, with the cherry notes following through to the end.
Verdict: Overall this was an enjoyable whiskey, but not a standout. One panelist noted that there was "not much complexity to it; it has a very simple, dry flavor," but others found the cherry notes on the nose and the palate appealing.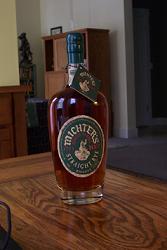 Michter's 10-Year-Old Straight Rye
The 10-year-old has earned a lot of raves in recent years, being given the highest recommendation by Wine Enthusiast in 2005, and chosen as the top pick by the Los Angeles Times rye tasting panel that same year.
This rye was striking, even before we started sniffing it. Panelists noted its engaging amber color in the glass, and on the nose it showed its age and its proof with a rich, sweet aroma with a little pear and a little graininess — "It's got a great, sweet nose, and the color is exquisite," one panelist noted.
At nearly 93 proof, the whiskey had a little heat and an earthy spiciness that was really engaging, but not over the top, and a lush, full body that made the sipping very enjoyable. The spiciness was followed by a slightly sweet middle touched with banana and oatmeal, and a long, smooth finish that was very engaging.
Verdict: A very good whiskey, with rye's distinctive spiciness but with a pleasant, fruity sweetness in place of the sour notes found in other ryes. While the Michter's 10-year-old didn't place on any panelist's top-3 list, it was a top-tier whiskey at this tasting.
Next: Van Winkle, Hirsch & Pikesville Supreme