What the hell just happened? A few short years ago, when I first started getting into this cocktail thing, rye whiskey was like the secret handshake of the liquorati — if you knew about it, and mixed your drinks with it, and dropped that into conversation with a fellow traveller, it was the equivalent of a high-sign between Skull and Bones brothers.
It helped that the stuff was so rare. Sure, Old Overholt could be found pretty easily, along with bottles of Jim Beam Rye, with their garish yellow labels. A little casual digging could turn up some Wild Turkey Rye, and if you were lucky, you might even see a bottle of Van Winkle Family Reserve from time to time. But, at least here in Seattle (which, for all I gripe, is a lot better off, selection-wise, than many other places), that…was…it.
Now, rye is everywhere. Well, not completely, but a definite wave is taking place. Heaven Hill's sleepy old Rittenhouse came out of nowhere a couple years back to take top honors at the San Francisco spirits competition, and since then the bonded version has deservedly attained rock-star status among booze geeks from coast to coast. Michter's, too, is becoming easier to find, and last year Buffalo Trace altered the rye landscape by not only continuing the sporadic yet highly anticipated production of their 18-year-old Sazerac Rye, but by rolling out the 6-year-old "baby" Sazerac and sending it to markets all over the country. Independent labels like Black Maple Hill and Classic Cask have released scarce yet whammo-quality ryes in recent years, and down in San Francisco, Fritz Maytag keeps producing his small-batch, minimally aged whiskies using his mad-scientist, single-malt rye, toasted-oak process.
It doesn't hurt that the media has taken notice. The LA Times ran a nice rye overview about 18 months ago, and in the past three months, stories on rye's resurgence — complete with tasting notes — have appeared in the Wall Street Journal and the New York Times (I'd stick in links, but it's all in paid archives now), the first by Eric Felten and the second by Eric Asimov (the NYTimes story, my self-promoting alter-ego would like to point out, was accompanied online by a posting about the tasting session in The Pour, Asimov's blog, which kindly provided a link to my rye page. Mr Asimov: my hit counter and my ego both thank you with great enthusiasm.)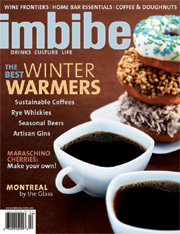 This month, another rye feature story appears in Imbibe magazine, written by — well, that's the second piece of self-promotion in this post. In Asimov's rye post, he indicates how much fun he had doing the research for the piece, and that's a sentiment I have to echo about my article in Imbibe. While working on the story I had the great pleasure to talk to brand managers, distillers and bartenders including Larry Kass at Heaven Hill (makers of Rittenhouse, Pikesville Supreme and Stephen Foster ryes, along with a slew of other spirits), Preston Van Winkle from the great Van Winkle bourbon dynasty, Mike Miller at Delilah's in Chicago, Jackson Cannon at Eastern Standard in Boston, and the inimitable Fritz Maytag from Anchor Distilling.
I also had the opportunity to taste a lot of rye, and this is where timing was key. Given the attention rye is getting, and the number of brands and bottlings now starting to appear in the US market, I had many more choices of whiskies than existed even a year ago (and even then, I didn't get all the brands that are either currently available or coming out soon). A one-page overview of my tasting notes are included with the story in Imbibe, but I wanted to spend a little bit more time exploring these different whiskies, so over the next couple of weeks I plan to run short descriptions of each the whiskies tasted.
The particulars: In late September a tasting panel gathered at my home to sample 18 different American rye whiskies for this article. The tasting panel was comprised of myself; Robert Hess; and Murray Stenson and Kacy Fitch, bartender and co-owner, respectively, of Zig Zag Cafe. (The tasting actually took place in two phases: the first phase at my home, we sampled 14 ryes; later that week, four additional ryes, which hadn't arrived in time for the panel, were sampled by Murray, Kacy and myself. Sorry, Robert). Over the course of three hours, we explored the characteristics of ryes ranging in age from four to 21 years and in price from $12 to $150. The tasting was done blind (pouring was handled by my wife, Leonora), so none of us could be biased by a sample's label, price or reputation. In addition to discussing the whiskies, we also talked about rye's role in cocktails, the use of super-premium spirits in cocktails and several other topics; the session was taped, and I plan to delve into these topics as I explore these whiskies in the next couple of weeks.
For the record, the whiskies sampled by the tasting panel were:
* these four ryes were included in the second-phase tasting among three of the four panelists
Once I've covered these, I'd like to supplement my rye notes with tastings of two additional ryes that I've come across after the article went to press: the brand-new Templeton Rye, and Old Potrero's Hotalings Rye Whiskey.
Pull up a glass — let's talk rye.