(part of a series of posts on a recent panel tasting of 18 American rye whiskies that starts here. For more information on rye whiskey and additional tasting notes, pick up the January/February 2007 issue of Imbibe magazine.)
For much of the time between rye's near-demise during Prohibition and the late 1990s, there was no such thing as a premium rye whiskey. Due to a stroke of luck, though, in 1997 or 1998, the Van Winkle distilling family was approached by a Japanese customer seeking a high-end aged rye for distribution overseas. Could Van Winkle provide whiskey to this niche market? Of course.
Problem was, they didn't have any. According to Preston Van Winkle, his father, Julian, searched for barrels of aged rye on the open market and soon found several that would suit the special order. After bottling the whiskey in 1998, Van Winkle realized that perhaps there might be a greater demand for aged ryes, and started to bottle the whiskey for the domestic market.
The 12-year-old "Old Rip Van Winkle Old Time Rye" was the initial product; now defunct, this rye has been replaced by the 13-year-old Van Winkle Family Reserve Rye, bottled at 95.6 proof. Van Winkle sells around 290 cases of this whiskey domestically each year, and another 350 or so cases internationally. Following on the initial interest in this premium rye, Van Winkle began distilling its own rye whiskey in 1999 or 2000. Given that the rye is aged for 13 years, that means it's still at least another five years before a "true" Van Winkle rye is released; until then, the company's straight rye is taken from barrels purchased from other distilleries.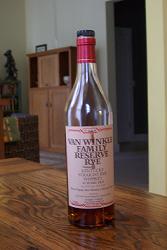 Van Winkle Family Reserve Rye
The Van Winkle had long been the rye I kept stashed away for times when I wanted something more special than Old Overholt, and all of the panelists were long familiar with the Van Winkle rye. I was curious how this old favorite would perform in a blind testing alongside an array of other premium ryes, some younger and some much older.
Despite its higher alcohol level, the rye was very soft on the nose, with a gentle, banana-like sweetness but no real dominant note; one panelist noted that the nose "didn't impress me at all," and another said "it's not that refined." In the glass, the whiskey also came across as very soft, with a mellow dryness and hints of rye's classic spicy sour notes, but very subdued. One panelist described it as having a "stereotypical rye taste to it: dry, but not much else," while another noted that it tasted "like a rye-flavored bourbon, with just enough rye to make it a rye, but not enough to define its flavor as a rye." A third panelist was more approving, saying that he "liked it a lot; I think it's smooth, it's dry, it's got rye characteristics," then going on to correctly select this sample as the Van Winkle.
Verdict: While one panelist was very approving, even placing it in his top-ranked ryes, the rest of the panel was less enthusiastic about the Van Winkle, noting that its character was too monodimensional and subdued, especially as compared to other premium ryes. A mixed bag for Van Winkle.
Next: Pikesville Supreme