(part of a series of posts on a recent panel tasting of 18 American rye whiskies that starts here. For more information on rye whiskey and additional tasting notes, pick up the January/February 2007 issue of Imbibe magazine.)
I didn't want to get too complicated while talking about rye — after all, it's a strange enough creature to most people, and I didn't want to muddy the waters any. But with Pikesville Supreme, something needs to be cleared up regarding rye whiskey's heritage in the United States.
Traditionally, there were two types of rye that existed until fairly recently: the spicier, tangier Pennsylvania rye, also known as Monongahela rye; and the softer-tasting, brighter Maryland rye. During rye's heyday, there were numerous brands of each variety, many hailing from the whiskey's namesake states, but as with other products such as vermouth, the name ultimately had less to do with geography than with style.
As the rye world crumbled beginning with Prohibition, fewer distilleries produced rye (or much of anything, for that matter), and the liquor industry became dominated by fewer, larger players. Today, to the best of my knowledge, there's not a drop of rye whiskey commercially distilled in either Pennsylvania or Maryland (if I'm wrong, please, somebody tell me — I'd love to know), and almost all rye whiskey is now made in Kentucky. As these Kentucky distillers bought up old brands of rye from defunct operations, the Pennsylvania style of rye prevailed. Despite occasional rumors and discussions about which camp Jim Beam Rye falls into, I believe that Pikesville Supreme is the last remaining brand of Maryland-style rye.
Manufactured by Heaven Hill — makers of the mighty Rittenhouse ryes, among others — Pikesville Supreme was originally named for Pikesville, Maryland, where Pikesville whiskey was distilled by L. Winand & Bro., beginning in the 1890s. Prohibition killed the company, but after repeal, the brand name (and, reportedly, the recipe) was purchased by Andrew Merle. For the next several decades, Pikesville Maryland Rye continued to be made in Maryland, at the Monumental Distillery (later the Majestic Distillery) in Lansdowne. Majestic ceased distilling in 1972, but for the next decade, it continued to bottle and sell Pikesville rye (it's likely some of this whiskey was purchased in barrel lots from other distillers). In 1982 the brand was sold to Heaven Hill, which has produced and bottled it ever since.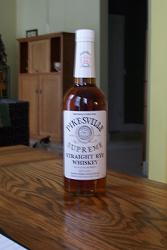 Pikesville Supreme Straight Rye Whiskey
Pikesville Supreme is bottled at 80 proof, and aged three years. The simply designed label proclaims it's "The Aristocrat of Straight Whiskies," but its price in the $12 range suggests this aristocrat may be a bit down-at-heel. Commonly found in the mid-Atlantic states (and, apparently, the U.K.), Pikesville Supreme is pretty scarce everywhere else.
In a blind tasting, mixed among the other ryes, Pikesville Supreme was something of a surprise. The nose was very crisp and fruity, with notes of raspberry and pear. On the palate, the whiskey came across as quite sweet, with a big round flavor marked with vanilla and fresh-mown hay. Several panelists remarked on its nice balance and long finish.
As opposed to most of the other ryes tasted, the Pikesville had a lighter, grassier flavor, more smooth and sweet than spicy and sour, and without the moody oakiness of the longer-aged whiskies. While the whiskey was a shift of gears from spicier ryes such as the Rittenhouse and the Wild Turkey, panelists found it quite pleasant, if without ambition. One panelist summed it up perfectly: "It's sweet, but well-balanced. If this costs $60 a bottle, I'd say it's overpriced; if it costs $12 a bottle, I'd say it's great."
Verdict: At around $12 a bottle, the Pikesville Supreme is a real catch. I think we all expected to be disappointed by this whiskey, but it outpaced similar-range ryes such as Old Overholt and Jim Beam. One panelist even placed this whiskey in his top tier (near the bottom end of the top tier, I should note), and while the Pikesville is easily outgunned by the super-premium upstarts in the rye market, when taken for what it is — a good, cheap mixing whiskey — Pikesville Supreme is a pleasant surprise.
Next: Hirsch