(part of a series of posts on a recent panel tasting of 18 American rye whiskies that starts here. For more information on rye whiskey and additional tasting notes, pick up the January/February 2007 issue of Imbibe magazine.)

Our panel was very lucky to have obtained samples of some of the rarest and most highly esteemed ryes currently available — bottlings such as the Rittenhouse 21-Year-Old and the Thomas Handy Sazerac come to mind — but I was especially curious to see how, in a blind tasting, three of the easiest-to-find rye stalwarts fared in the bigger mix.
Two rye whiskies currently rule the U.S. market: Old Overholt and Jim Beam Rye. While Old Overholt has a long history as a brand, both ryes are currently made by Jim Beam. To give you an idea of how much these brands dominate the market, the recent New York Times story on rye mentioned that 32,000 cases of these brands were shipped in 2005; in contrast, a spokesman for Heaven Hill estimated to me that the highly prized Rittenhouse 100-proof rye ships fewer than 1,000 cases per year (and as further contrast, Jim Beam's 32,000 cases of rye are grossly eclipsed by the 3.9 million cases of bourbon it shipped that same year).
While its sales lag far behind the two Beam brands, Wild Turkey produces a 101-proof rye that is also found with relative ease across the country.
Here's how these three brands fared with the tasting panel (and I should note, the order in which the whiskies appear here are not the order in which they were tasted; the latter was by random, and the former is for my convenience in relating the tasting notes):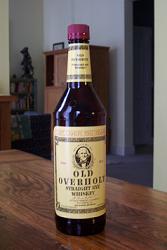 Old Overholt
With a label that looks like it hasn't been updated in 85 years and a name that reaches back more than a century, Old Overholt is the sturdy standard-bearer of American ryes. For most bars in America — those that carry any rye at all, anyway — "rye" is synonymous with "Old Overholt." I'd always thought of Old Overholt as a good starter rye — different enough from bourbon to tell the difference, and at 80 proof, mild enough not to spook the novice drinker — but as I've found myself with greater access to ryes such as Sazerac 6-year-old and the Rittenhouse 100 proof, I've let my bottle of Old Overcoat gather dust. Tasting it in a blind session was a way to see how it fared among its more highly regarded rivals.
In the glass, Old Overholt started out well; panelists said it had a bright, fruity aroma, with touches of strawberries and roasted apples, and one panelist even said at first blush it smelled like a Calvados. Tasted neat, it presented at first the same fruity, apple quality detected in the nose, followed by a touch of black pepper, or what one panelist referred to as a "sharp, saw-tooth taste that you don't get from regular pepper." Seems promising, right? Too bad — after these first notes, the flavor quickly dissipated, and left a very short, unremarkable finish. Panelists remarked that the Old Overholt was "kind of ordinary; I don't like it and I don't dislike it," and that it was "low on complexity."
Verdict: At around $16 a bottle, Old Overholt is still a decent starter rye, and is handy for cocktails with citrus or other mixers that obscure the taste of the whiskey; just don't expect any culinary masterwork from this venerable brand. It's also intriguing to wonder how this whiskey would fare if bottled at 100 proof; I think if Jim Beam tested out a higher-proof version of Old Overholt, it just might enjoy some of the same acclaim the Rittenhouse has received in recent years.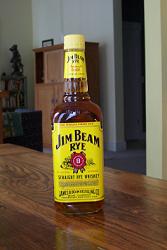 Jim Beam Straight Rye
Old Overholt's companion brand, the Jim Beam Straight Rye is also priced under $20 and bottled at 80 proof, and is pretty easy to find across the country. And as with Old Overholt, the tasting panel was similarly unimpressed when presented with the Beam in a blind tasting. Panelists picked up a bright, fruity nose from the Beam, with touches of orange, peach and nectarine. One panelist noted that the Beam rye struck him as hot and overproof on the nose, but when tasted, that characteristic quickly fell away. While the whiskey maintained its slightly sweet fruity flavor on the palate, the taste seemed muddled and low in complexity, with little of the sour spiciness that is to be anticipated in a rye.
Verdict: Another "not good, but not bad" vote from the panel. The Beam is a servicable whiskey in cocktails, but doesn't have enough character to be enjoyed straight, or in drinks such as a Manhattan, that highlight the whiskey's flavor. If you need an all-around mixing rye, the Beam will suffice; but if you have other options, you can do much better for about the same price.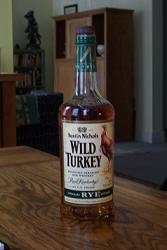 Wild Turkey 101 Straight Kentucky Rye
The Turkey rye was the first rye whiskey I ever tasted, and it's always been something of a touchstone rye for me. At 101 proof, it packs more of a flavor punch than either of the two more commonly found rye whiskies; when tasted blind with an array of other ryes, the kickin' chicken held its ground well.
Panelists noted a distinct and appealing sourness on the nose, with one picking up a complex Roquefort-like aroma, and a hotter, more alcoholic fire. On the palate, the Turkey immediately distinguishes itself as a rye, with a spicy sourness and a peppery earthiness followed by a long, robust finish.
Verdict: The Wild Turkey has a pure rye character, suitable for sipping neat and hearty enough to be mixed in cocktails without losing its identity. At the end of the tasting, one of the panelists placed the Wild Turkey in his top 3, and all considered it as belonging in the top tier — a pleasant surprise, given both its ubiquity and its price (around $20).
Coming up: Rittenhouse, three ways …