(part of a series of posts on a recent panel tasting of 18 American rye whiskies that starts here. For more information on rye whiskey and additional tasting notes, pick up the January/February 2007 issue of Imbibe magazine.)

In the past couple of years it's become hard to read a published article or blog post about rye whiskey without coming across the Rittenhouse brand name. Despite — or perhaps because of — having a production and distribution that's a fraction that of Old Overholt, Rittenhouse has stirred a passion among whiskey and cocktail geeks that hasn't been seen since small-batch bourbon began to break about ten years ago.
Originally made in Pennsylvania, Rittenhouse is now made in Kentucky by Heaven Hill Distilleries, which also produces Pikesville Supreme and Stephen Foster rye whiskies, along with other products such as Elijah Craig and Evan Williams bourbons and Christian Brothers brandy. Until recently, two versions of Rittenhouse were available: an 80 proof version with a cream-colored label; and a more powerful bonded (100 proof) version with a distinctive black label. Both typically retail for under $16.
The lower-proof version is your standard mixing rye, along the same lines as Old Overholt. The bonded rye, though, is something of a powerhouse, revving up cocktails with a bold rye flavor that makes you understand what the hoopla was about a fine Manhattan. Last year, the bonded Rittenhouse knocked countless whiskey aficionados on their duffs by capturing a double gold for rye whiskey at the San Francisco World Spirits Competition, and went on to win the pick of "North American Whiskey of the Year."
Rittenhouse's quality was old news to bartenders such as Audrey Saunders, who made it a staple at Pegu Club in New York. Problem was, the whiskey's sudden rock-star status created a demand that couldn't be met. Here in Washington state, the bonded whiskey has been very scarce. Despite my attempts to special order a case (attempts that became more frenzied after I actually tasted the whiskey last summer, thanks to the generosity of Boston bartender Jackson Cannon), I remained unable to find the Rittenhouse until a liquor store in West Seattle received two cases by accident this fall. I'm still rationing out my stockpile.
Given the hullaballoo over the bonded, and my own fondness for it in Manhattans, I was interested to see what a blind tasting would reveal about the array of Rittenhouse ryes.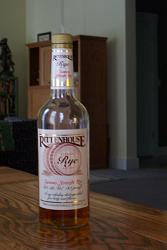 Rittenhouse 80-proof Kentucky Straight Rye
On the nose, the 80 proof came across as, for lack of a better term, "green." One panelist compared the aroma to that of curry leaves, in a green, spicy kind of way. Another thought it had a light, airy nose of fresh-mowed grass and brown sugar, and a third picked up some crisp citrus notes. On the palate, the 80 proof came across as very approachable, with a gentle sweetness and a quick, crisp finish.
Verdict: A good, but nondescript rye. One panelist summed it up perfectly: "If this one is expensive, then shame on it. If it's an inexpensive rye, then they're doing a great justice. It has no finish, and [a good finish] is what I want out of a quality whiskey, but everything else about it is good."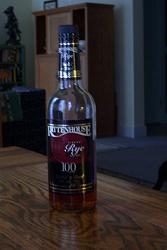 Rittenhouse 100-proof Bottled-in-Bond Kentucky Straight Rye
At the end of the tasting, once brands were revealed to the panelists, we were all a bit surprised by how the bonded Rittenhouse had performed. On the nose, two panelists described this whiskey as nondescript — a little sourness, a little sweetness, but overall, as one put it, "it doesn't give anything up."
On the palate, the whiskey came through a little clearer, with a more robust, peppery spiciness followed by a sourdough-like flavor and a scant touch of sweetness, and a crisp, medium finish.
Verdict: "That's a Rye 101 for anyone who's never had rye," said one panelist. While the rye was pleasant, it didn't particularly distinguish itself from the crowd. Tasters approved overall of the whiskey, but when tasted neat and with a little water, it came across as hot and aggressive; as another panelist phrased it, "You're not just going to serve this to someone; you're going to put it into a drink. It has to be mixed."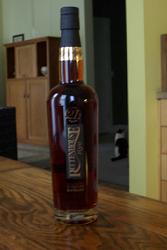 Rittenhouse 21-year-old Single Barrel Straight Rye Whiskey
Late last fall, Heaven Hill rolled out a limited edition, longer-aged rye that would capitalize on some of the prestige the bonded version had captured. Aged 21 years and bottled at 100 proof, this whiskey is billed as a one-time, very limited bottling. Unlike most whiskies, this single-barrel edition is not chill-filtered.
On the nose, the whiskey came up with some heat, but had a nice, chocolatey depth and an appealing doughiness. A distinctive sourness came on strong at first taste, followed by the chocolate depth and a rich, oaky finish. The whiskey had a notably round and rich mouthfeel, and overall presented a very robust character when sipped neat and with a few drops of water.
Verdict: This was a crowd-pleaser. The extra aging made a mellower, sweeter, smoother rye than many of the more typical ryes, with still a touch of rye's hallmark sour spiciness to distinguish it from a bourbon or other type of whiskey. While two panelists considered that it would make an exceptional Sazerac, another insisted it needed nothing more than a glass and maybe an ice cube to be enjoyed to its fullest. At the end of the tasting, the Rittenhouse 21-year-old was on three out of four top-3 lists.
Next: Michter's