Thursday was a big'un, so I'm breaking it up into more easily managed doses.
After a short stroll through the French Quarter — which reminded me exactly how searing the sun could be in Jackson Square, even at 8:00 AM — I headed to Cafe Adelaide for breakfast, which kicked off with a Brandy Rum Milk Punch and quickly turned spectacular with a blue crab and wild mushroom omelette. Breakfast meant hanging with even more acquaintances new and old, including Rick & Gretchen, Camper English, Joe Fee and Gwydion Stone.
The breakfast also confirmed one other suspicion I'd long held: JOE FEE ROCKS! Described by Ted Haigh as "an alcoholic Jimmy Stewart," Joe has a habit of wearing cargo shorts with deep pockets filled with bottles of bitters. A question from me about Fee's excellent whiskey barrel-aged bitters prompted Joe to pull out a bottle and toss it my way, followed by bottles of their two newest products, a Grapefruit Bitters (whoopee!) and a spiced syrup.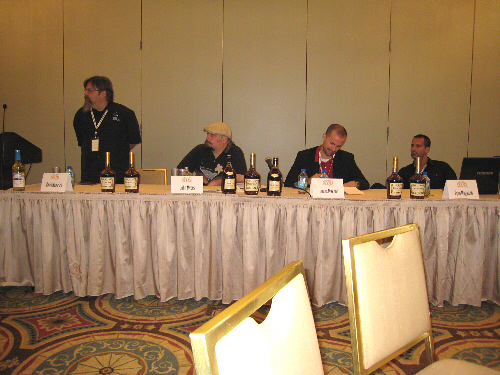 The first panel I hit was David Wondrich's session on the Cocktail Family Tree, in which he was joined by John Myers, Ryan Magarian and the excellent Jim Meehan for an exploration of — well, the cocktail family tree, I guess. The crowd was small, but hardcore, and the brandy daisies that followed the two drinks I'd had with breakfast made for a most interesting outlook on life at 11:00 in the morning.
But the real fun was just beginning. The second session was Rum's Punch, hosted by Wayne Curtis, with backup from Jeff Berry and Stephen Remsberg, who is credited with owning possibly the single-largest privately-held rum collection in the world. Wayne pulled out the stops with a graphic-heavy presentation on everything that didn't make it into his book, And a Bottle of Rum: A History of the New World in Ten Cocktails
(which, by the way, is now out in paperback). Jeff joined in with a walk through mid-century tiki, and Stephen displayed an incredibly dry wit as he prepared a Jasper's Jamaican Planter's Punch for the crowd.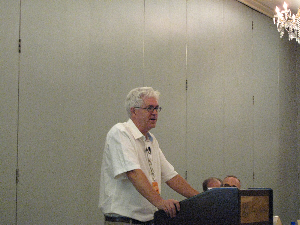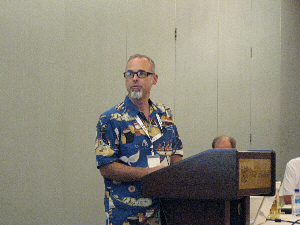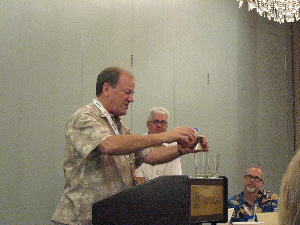 Next: Thursday afternoon, where the going gets weird …