Since I had to bail out of bed at 2:30 AM to catch my flight, I knew this would be an early evening. Gwydion Stone from the Wormwood Society and I were on the same flights, and we got to the Monteleone around 4:00 — just enough time to freshen up before the cocktail hour. Down at the Carousel Bar, I rendezvoused with Darcy O'Neil, and we parked ourselves at the spinning bar next to Ted Haigh — who was skipping the Herbsaint in his Sazeracs and tipping in a dash from a flask filled with the real deal — and met folks like Cheryl Charming while waiting for dinner to begin. I also had the chance to finally meet Gary Regan, a gentleman as friendly and gracious as I'd always imagined.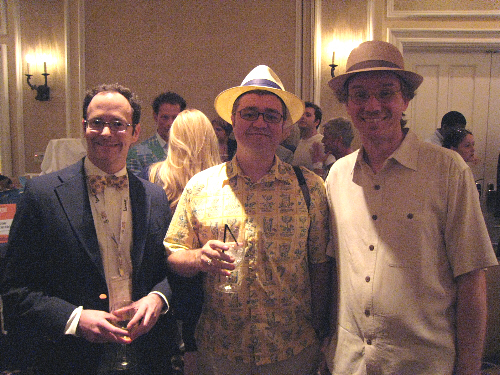 A group of us traipsed over to Riche for the evening's festivities, and in a few short minutes I met old friends like Jeff Berry and Wayne Curtis, and ran into folks I'd been dying to meet for a long time — Rick Stutz from Kaiser Penguin and his wife, Gretchen; John Myers from The Thirstin' Howl; Eric Seed from Haus Alpenz; Robert Cooper from Cooper Spirits (makers of St. Germain); and, of course, Chuck Taggart and Wes, people I've known online for years but hadn't yet had the great pleasure to meet.
I would've loved to have hit the Swizzle Stick or a number of other bars, but that 2:30 wakeup call was dragging me down, so after another Sazerac with Darcy at the Carousel Bar, I crashed nice and easy, all the better to prepare for a jam-packed Thursday.