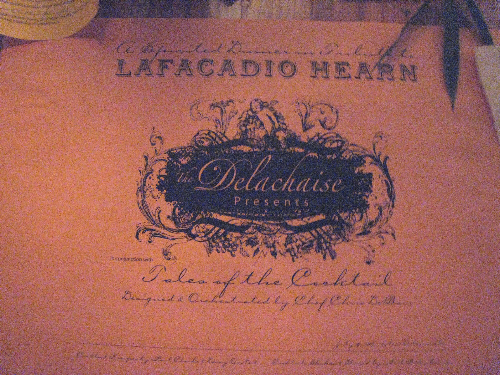 Here was where the weird, hectic day finally turned normal. I cabbed over to the Delachaise along with Darcy, Rick and Gretchen, and after introducing myself to chef Chris DeBarr, I knew everything was going to be alright. Chris introduced Darcy and me to Neal, his head bartender, who had spent an incredible amount of time working his way through our cocktails so he knew them as well as we did. The dedication of Chris and the Delachaise staff was apparent in this attention to detail, which carried through to the elaborate place settings with custom-made placemats and specially wrapped candles.
(And since I'm sure to butcher the descriptions of the food, I encourage you to head over to Chris' blog for his take on parts of the meal.)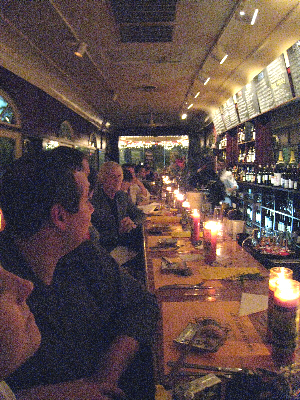 I was still kind of nervous though, never having sampled our cocktails with Chris' cooking. The first course put me at ease — after the Tropical Palm, our welcome drink made with Absolut New Orleans, Licor 43, Lillet and Peychaud's (and possibly the only flavored vodka cocktail you'll ever see mentioned on the Cocktail Chronicles), Chris brought out the amuse bouche: flounder sushi on rose petal rice, which we'd paired with a Tchoupitoulas Street Guzzle: spicy housemade ginger beer chilled and run through a soda siphon over some Cruzan Estate rum. Bingo! Those flavors slid right in next to each other like an analogy I'd love to make except I'd be too likely to blush about it.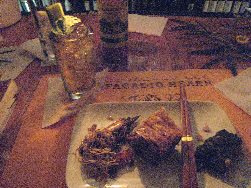 We progressed with Chris' incredible appetizer trio, paired with an Apollo's cup made with Plymouth gin, sweet vermouth, Patron Citronge, orange bitters and ginger ale. This segued nicely into a skewer with baby artichokes, andouille and grilled shrimp over buckwheat polenta, which was matched with the Les Coulisses cocktail (Plymouth, Cynar, Chartreuse, orange bitters — developed by Murray Stenson, so if you're in Seattle make sure you go ask him for one).
For the entree, Chris went with Copper River sockeye salmon (whee!) wrapped in red dulce seaweed, and ivory king salmon marinated for two days in sake lees and mirin, then slow roasted and served on a bed of dulce mashed potatoes. This was served with a drink of Chris' creation, the Matsue Melange, which I can't even begin to describe except as fruity, chunky with fruit and tapioca pearls, and very entertaining.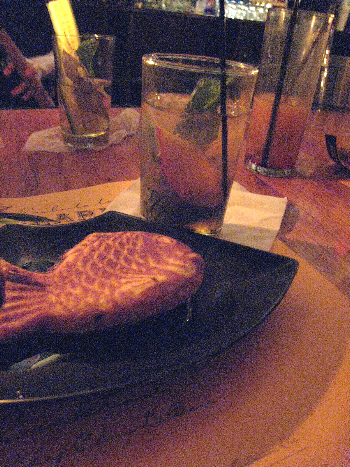 Dessert came with the taiyaki pancake-wrapped chilled peach mousse, joined with the Pepe Llulla Swizzle, which had two types of Cruzan rum, Rhum Clement Creole Shrubb, fresh lime juice, demerara syrup, Herbsaint and fresh mint, swizzled with crushed ice and topped with Fee's Whiskey Barrel Aged Bitters and Peychaud's, and garnished with fresh mint and a slice of white peach. I knew this one would be a royal pain in the ass to make, but Neal and his crew handled it perfectly for the full bar. It tasted fantastic, and I couldn't have been happier.
Darcy and I finished the night by swapping a few cocktails with Chris and talking food and New Orleans. After the turbulence of the afternoon, the Spirited Dinner was a perfect antidote, and Chris was the perfect host. If I have anything to say about it, I'll be back at the Delachaise next year for another dinner.