The Tchoupitoulas Street Guzzle has, in my opinion, one of the greatest names in mixology; the recipe, however, needs a little reimagining.
As noted by Stanley Clisby Arthur in Famous New Orleans Drinks and How to Mix 'em
, first published in 1937, the Tchoupitoulas Street Guzzle was a regular tipple at the Iron Horse Tavern in New Orleans in the years before the Civil War. Over time its popularity spread beyond the tavern, with fans up and down the street for which it became named.
Arthur describes the drink as being composed of 1 jigger Cuban-type rum and a split of ginger beer. Refreshing, no doubt, and certainly a nice cooler if made with a good ginger beer. But flavorwise the Cuban-type rum — which is now typically understood to be a light rum, such as Bacardi — contributes very little to the drink, and ultimately the guzzle is akin to a Dark & Stormy with a bit less character. What an ignoble end for a wonderfully named drink.
But it doesn't have to be this way. A couple of years ago, while Darcy O'Neil and I were preparing for a Spirited Dinner at Tales of the Cocktail, our chef, Chris DeBarr, proposed serving a Lafcadio Hearn-inspired meal starting with an amuse bouche of Pontchartrain flounder sushi on rose-petal rice. I thought a fresh approach on the Tchoupitoulas Street Guzzle might make an appropriate pairing for this tidbit, so I started working with the recipe.
Keeping the original ingredients in mind and not wishing to stray too far from the drink as described, I started sizing it down; instead of the initial impulse to mix rum and ginger beer in an ice-filled highball glass, creating a long, slow sipper, I thought it would better match the "guzzle" in the title as well as the atmosphere at the beginning of the meal if we sized this drink down as much as possible, concentrating the flavors as we went. To do this we started with a house ginger-beer concentrate much like the one I blogged about several years ago — there are other versions out there, some of them calling for fermentation; some people like them, but it's my understanding that if you go that route you're setting yourself up to appear in Playboy at some point — which brings a mighty ginger heat and flavor. We paired about a jigger of this with the same amount of rum (in that case, Cruzan Single Barrel; for this round, I'm using Havana Club 7-year) and a dash of Angostura bitters for depth, briefly shaken with ice and strained into a chilled tumbler, then zapped with about an ounce of seltzer for dilution and effervescence (you could instead run the ginger beer through a soda siphon, but you may want to check the flavor to make sure you've adequately diluted the sharpest of the ginger's heat).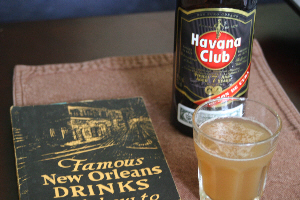 With no ice in the glass, this is more of a quick guzzle than a slow-sipper, and with the powerful ginger flavor from the homemade ginger beer, the drink has the effect of a firecracker as compared to a highball's slow sparkler. While this version of the drink I've photographed (and that I'm now sipping) was made with the Havana Club, which I used to maintain the spirit of the original, I prefer the drink with a richer, more vanilla-ey rum such as Bacardi 8 or Cruzan Single Barrel.
Anyway, I like this as a good, simple short drink that's meant to be finished quickly before moving on.
Tchoupitoulas Street Guzzle

1 1/2 ounces rum (Cruzan Single Barrel or Bacardi 8 work well)
1 1/2 ounces homemade ginger beer concentrate
1 ounce seltzer
2 dashes Angostura bitters

Combine rum, ginger beer and bitters in a cocktail shaker and briefly shake with ice. Strain into chilled 6-ounce tumbler and add seltzer. Give a brief stir, and don't let it sit too long.
This drink is part of 30/30, a series of 30 drinks in 30 days — or as much as I can keep up before collapsing in a weary, booze-addled heap.