I'd meant to take it easy in New Orleans, I really did … but hanging out with Chris DeBarr and Darcy after the Spirited Dinner turned into lengthy episode, and when I woke up Friday, I was very much feeling it. Fortunately, I had an easy day planned.
After ingesting around 8,000 calories at a breakfast at Brennan's — and I even skipped the Bananas Foster (though the mimosa helped set me on the right path) — I hustled back to the hotel to catch a panel called, "Enter the Distollogist." Ted Breaux from Jade Liqueurs started the session, and amazingly, he barely mentioned absinthe. Instead, he covered a relatively new liqueur called Perique, made with an old style of American tobacco that's hardly grown anymore. I'd heard a lot about this spirit, and was eager to try it — what I didn't expect is that it would be so light in flavor. Ted explained this was due largely to the way the tobacco leaves were fermented in used bourbon barrels, and that the base spirit was an eau de vie de chenin blanc from the Loire Valley. The flavor of Perique was very gentle and intriguing, and it tasted kind of the way a good pipe tobacco smells (not the smoke — the actual tobacco). Breaux also explained that he'd had to tinker with the mechanics of nicotine, to keep the liqueur from being simply a nicotine delivery device.
LeNell Smothers then presented on her wrangle with distilleries and regulators in the process of acquiring and releasing LeNell's Red Hook Rye. Given my taste for rye, I'd been especially interested in trying LeNell's, and her description — single barrel, 23 years old, cask strength, unfiltered — made it even more irresistible, and I'm glad I got a taste before the session ended (now, I've just got to get a bottle, and I'm set.)
Before Ryan Magarian could get started on talking about Aviation gin, I also had the luck to taste a replica of Abbot's Bitters, created by John Deragon and recently mentioned in the NY Times (John, if you're out there — you probably didn't know I tasted them, as I was just handed the bottle by the person I was sitting next to (I think it was Robert Hess, but I was kinda creaky that morning), and they're damn fine. Thanks for all the work you put in).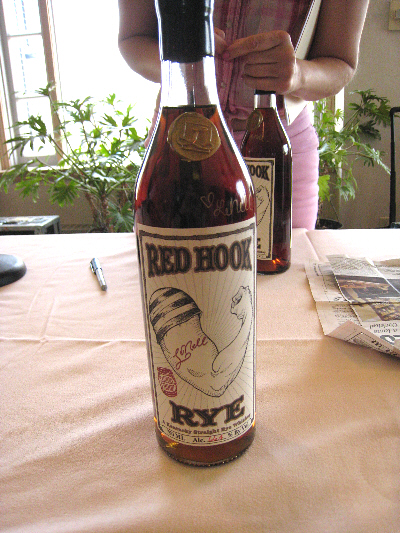 After the panel I took a little stroll up Royal Street to La Maison d' Absinthe, where I picked up a couple of absinthe glasses to take home, then I stocked up on Sazerac rye and New Orleans Amber rum.
In the afternoon, I sat in on the session on Prohibition's Shadow, which was a rambling discussion between Ted Haigh, Robert Hess and David Wondrich on what Prohibition and the temperance movement did to the state of the cocktail, with ample time to wander into the world of Canadian whisky, which was covered by John Hall of Forty Creek.
I was pretty much sessioned out by this point, so I grabbed a Sazerac in the Carousel Bar, chatted with the folks from Boston, then retired to work on my presentation for the morning. After a three-hour pause to have dinner at Stella with Karen Foley and Kate Darling, the wonderful folks from Imbibe, I spent the rest of the evening in solitary, working up my notes so I wouldn't sound like a fool during the cocktail blog session.
And that's where Friday was supposed to end — except it didn't. At midnight, keyed up from working most of the evening, I decided to have a nightcap before turning in early. After picking up a Sazerac the size of a birdbath at the Carousel, I parked myself in the lobby with Chuck Taggart & Wes, Rick Stutz and Darcy O'Neill. While we were chatting about the upcoming panel, Eric Seed approaches and asks, "Did I mention I'm working on a Pimento Dram? Wanna taste?" Well, yeah, of course. Eric pauses — "I'll just bring down the whole medicine kit, okay?"
And thus began an episode that lasted until 2:30, as we took over an empty conference room and worked our way through virtually all of Haus Alpenz' product line, current and future. The Blumen Marillen apricot eau de vie was bracing and gentle, and the Williams pear eau de vie had a fresh fruit taste unparalleled by any other eau de vie I've encountered. We also tasted liqueurs made with each of these brandies (and may have discovered a new favorite apricot liqueur for mixing), as well as a beautifully complex nocino, samples of 100-proof Batavia arrack and a Swedish punch made from same, and an artemisia liqueur that had such a pronounced bitterness that I could still taste it two minutes after swallowing the sample.
With our panel only a few hours away, we finally bailed on the impromptu tasting to get some rest. And I was supposed to be taking it easy.