While I would have made it to Tales no matter what, Saturday morning was the main reason I attended: the "Cocktails and the Blogosphere" session, moderated by me. I felt that my "Lost Ingredients" presentation didn't go so well, mainly because my lost samples meant I was flustered and had to improvise as I went, so I spent a lot of extra time working on the blog presentation to prevent a repeat. Fortunately, I had some great help from Chuck, Rick and Darcy, and when we started our presentation promptly at 9:57 — thanks to the task-master room manager with the fast-running watch — everything went smoothly (excepting, of course, the hotel's Wi-fi, which refused to let me connect and hence kept me from showing the work of all the great bloggers out there. But, I kinda figured it would crash, so I can't say I was that surprised).
I'd initially been concerned that at 10:00 on a Saturday morning, the size of our panel might be larger than that of the audience. Happily, we got up to around 25 folks for the session, which was more than I'd allowed myself to hope for, and about in line with what many other sessions were drawing. Any fears I had that we'd wind up with periods of awkward silence or with dead time to fill were easily assuaged by Chuck, who made his skills as a radio host apparent by taking the mike and verbally sauntering through the session, easy and confident. It really made my job much easier. Darcy and Rick, too, were very well prepared, and after each panelist had a chance to talk about what it was that prompted us to spend inordinate amounts of free time blogging about drinks, I realized I'd made the perfect choices for panelists, and couldn't have asked for anything more. They really did a fantastic job.
After the panel, I felt like a weight had been lifted off my shoulders, and I was free to relax for the rest of my time at Tales. I made sure to catch the vermouth session hosted by Ted Haigh and Martin Douderoff, simply because I'm kinda weird about vermouth, and had the good fortune to bump into Jackson Cannon, bar manager at Eastern Standard in Boston, who'd come down just for the day, and who — ironically — I'd met during a vermouth excursion to Martini & Rossi in Turin, a little over a year ago.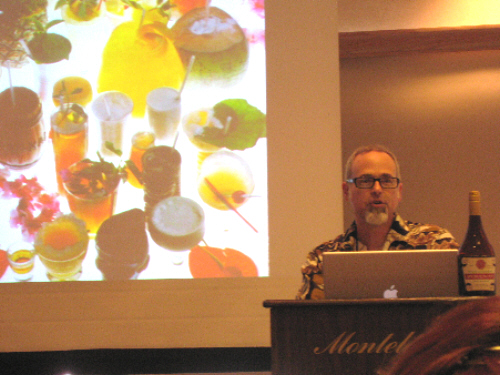 In the afternoon came the event I'd really been anticipating: "Tiki Drinks, from A to Zombie," hosted by my good friend, the Bum, and joined by Wayne Curtis and Stephen Remsberg. This was easily the best session of the week for me: the room was packed to the rafters with people, and Jeff gave a quick-moving, detailed, and hilarious summary of the mid-century Polynesian phenomenon he covers in his latest book, Sippin' Safari. Wayne took us on a quick tour through the Mai Tai, and Stephen reprised his hilariously dry presentation style while covering the Last Rites. Shaking was handled by a cast of folks including Martin Cate from Forbidden Island, and the crowd really got into the vibe of the event. If you meant to come to Tales this year but couldn't for some reason, this is the event you should really be kicking yourself for missing — Jeff and the gang blew the roof off the joint.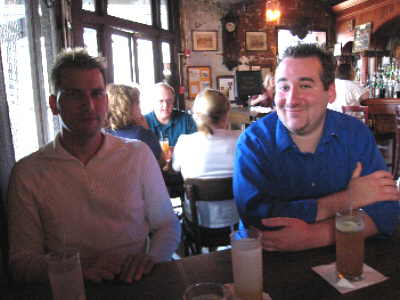 After that high point I just couldn't bring myself to sit in a conference room any longer, so I strolled around the French Quarter with Darcy and Rick, stopping for gumbo and Pimms Cups at the Napoleon House, and relaxing in the fine afternoon.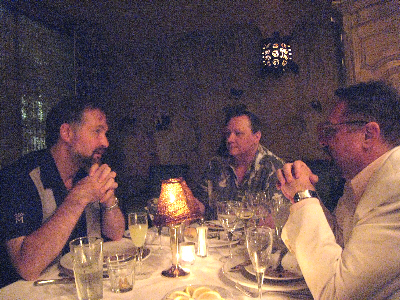 In the evening, I was off to a group dinner at a restaurant I shouldn't disclose. The reason? The dinner was organized by folks from the Wormwood Society, and the hosts had arranged for us to have a private dining room, replete with an absinthe fountain. Armed with bottles of Jade Edouard and Absinthe Marteau Vert Classique, we louched the evening away, backed with some of the finest food served in the city.
And that's how I shall remember my final evening at Tales of the Cocktail 2007 — digging into a plate of flounder stuffed with crab, pondering if my refill should be Edouard or Marteau, and joined by some of the wonderful folks who've come to town to share this enthusiasm. What a lovely way to spend a weekend.