Of course, after an evening of absinthe, there's no better way to get the day started than a late breakfast of absinthe.
So enthusiastic were the reviews of last year's absinthe session with Ted Breaux that the organizers asked him back this year for a repeat performance. Since I covered that session the first time around and — aside from the recentish news about Lucid and other absinthes heading for the U.S. market — very little changed in the panel, I won't go into much detail other than to point out that this year, Ted poured samples of the Clandestine blue and of the PF1901, the only Jade I had yet to try. Based on attendance, I wouldn't be surprised if they asked him back for a third go around.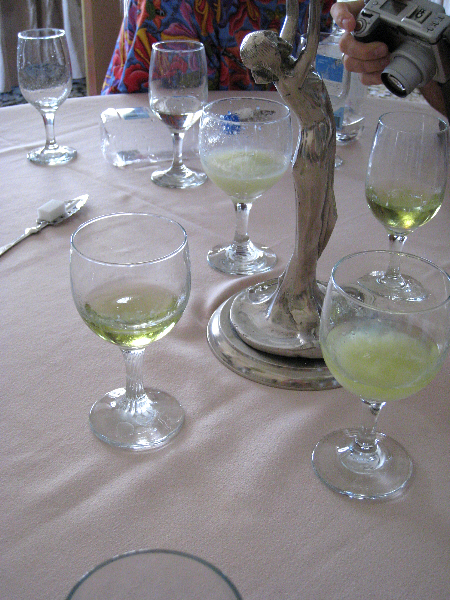 I still had a little time before I had to head for the airport, so I headed over to Harrah's to catch the first annual Tales of the Cocktail Spirit Awards. In a hall dripping with Vegas glitz, presenters quickly ran through awards for some of the top-rated bars, bartenders, cocktail lists and brand ambassadors in the industry. I walked in late with Chuck and Wes, along with Murray Stenson and Kacy Fitch from Zig Zag Cafe, who'd flown in especially for the awards, and we wound up commandeering a table from Diageo and sitting right next to the stage. Almost immediately after we walked in, the award was given to Zig Zag for Best Classic Cocktail Bar, and Kacy had to literally climb up on stage, accept the award and give a presentation speech.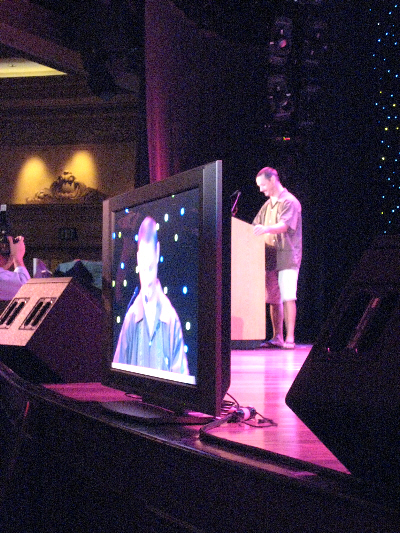 A couple of prizes later and the scene was repeated, when Zig Zag won the prize for Best Drinks Selection, and Kacy had to advance through the flying sequin lights for another stretch at the podium. Later, he was fairly cringing when Zig Zag recieved its other nomination — for Best Cocktail Menu — and Murray vacated the premises long before his nomination for Bartender of the Year was announced (the award went to Audrey Saunders, who had flown out earlier in the day).
All told, Zig Zag had four nominations and two wins, and Vessel racked up another Seattle nomination for Best New Cocktail Bar (the award went to Bourbon & Branch, in San Francisco).
I headed home as soon as the awards were completed, but it was with the satisfaction that my favorite local spot had received some national recognition. Congrats to Kacy, Ben and Murray for all their hard work. As soon as Tales becomes a more distant memory and my liver starts to shrink, I'll have to start coming around again.