Okay, I'm not done talking about Tales of the Cocktail yet.
But since several other booze bloggers are still recapping the different drinks & events, I won't feel like a freakin' idiot by still going on about it. Besides, fate knocked, in a way, today, and I just couldn't let the opportunity to mix up a new and interesting drink pass by.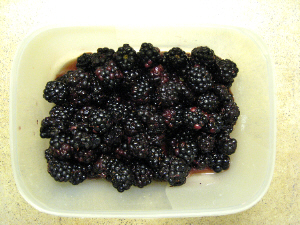 Note, this was a fairly small appearance by fate — no near-death experiences; no weird synchronicity; no stirring omens. No, this was just what you get on a normal Saturday afternoon in my house, when I came home from grocery shopping — where I made the impulse purchase of a bunch of fresh mint (hey, it's summer, it's the weekend — there's gotta be something I'll want to drink with mint) — and walked into the kitchen to find this: fresh blackberries, right from the farmer's market.
My wife, of course, bought these with the idea of giving them to our kids as a breakfast treat; I, on the other hand, immediately thought of ways I could mix them into a much more grown-up treat for myself, one that preferably involved some high-octane hooch.
I didn't have to think long, considering that both Jamie and Marleigh covered a blackberry, mint and rye concoction that Jamie learned about at Tales of the Cocktail. Jamie picked up the recipe for this drink at the Saturday morning Rye Whiskey panel, which coincided with the Cocktails and the Blogosphere panel I was moderating. In other words, Jamie ditched his fellow bloggers' presentation for the one on rye, so he's dead to me now, but for the moment I'm going to forget about that and poach a drink from his blog.
This drink was introduced by Allen Katz, who says he retrieved this from the Baltimore Country Club, which documented its existence around 1898. Considering that fate made sure I had all the ingredients on hand, I thought it'd be a good idea to put one together. Considering this has rye, mint, blackberries and ginger beer (I broke out my last bottle of Blenheim's for the gig), what's not to like?
Black & Tan

5 blackberries
8 mint leaves
1/4 ounce fresh lime juice
1/4 ounce simple syrup
2 ounces Sazerac rye
ginger beer

Muddle the blackberries, mint, simple syrup and lime juice in a mixing glass. Add the rye, and shake well with ice. Strain into an ice-filled Collins glass (you'll want to use a mesh tea strainer), top with ginger beer and garnish with two whole blackberries.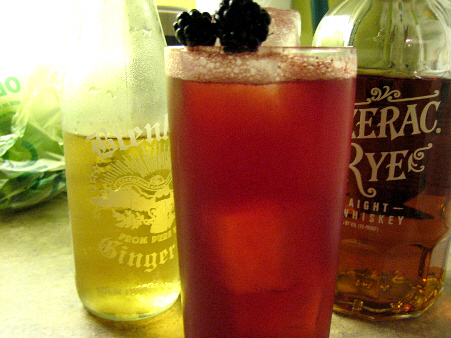 (Oh, relax — I left plenty of blackberries for the kids. Unless I decide to have a second round … )