It's Mixology Monday again, and this round is hosted by Gwen at Intoxicated Zodiac; working with the concept "Leo," Gwen has chosen Orange as the theme for tonight's event. Being absolutely certain that no matter what orange juice / orange liqueur / orange bitters containing drink I chose from the classic cocktail repertoire, I'd find another person blogging about it the same evening, I instead decided to strike out on my own and use a relatively new drink that has greatly evolved over the past six or so months, and the final incarnation of which is only known to one other person: the Swordfighter Swizzle.
Last summer, one of my favorite drinks on a hot evening was the Prince Parker Swizzle, a tall, frosty mix of rums, lime juice and demerara syrup, flavored with fresh mint and perfumed with bitters. A variation on the Queen's Park Swizzle, the Prince Parker appeared on eGullet sometime previously, and during the heat of late June, I mixed one and fell in love.
Fast forward to this past winter, when swizzles would ordinarily be the very last thing on my mind, but then Darcy and I were tasked with putting together a cocktail menu for a Tales of the Cocktail dinner at the Delachaise, prepared by chef Chris DeBarr. Sponsoring the event was Absolut, parent company of Cruzan, and I knew right away that one thing that would be perfect on a steamy July night in New Orleans is a cold, soothing swizzle.
But to suit our needs, the PPS needed a little adjustment. For one thing, Chris had chosen as our dinner theme the life of Lafcadio Hearn, so we were trying to think of ingredients and flavor themes that would somehow mesh with the writer's biography. Furthermore, since we needed to use the sponsor's rum for the event, that meant making the drink with Cruzan — now, I think Cruzan's rums are wonderful, and I keep many of them on hand, but the darker rums lack the kind of delicate, brooding depth I was looking for in this particular drink; some sort of tinkering had to be done.
So, we did a couple of things: first, I tapered down the demerara syrup in the PPS, and introduced another ingredient: Rhum Clement Creole Shrubb. Considering that Hearn had lived in New Orleans for ten years, then moved to Martinique, it made sense to me to use this remarkable orange liqueur (that's where the MxMo theme comes in) as a flavoring agent in the drink. Flavored with bitter orange peels and Caribbean spices, the Shrubb is similar to an orange curacao, except as its base spirit, it uses Martinique rum, which gives the liqueur this peppery, serrated aspect that really brings it to life.
For the depth, I recalled something Jeff Berry had once said about how Donn Beach added complexity to his original faux-tropical drinks by using a dash of Herbsaint paired with Angostura bitters. If it was good enough for Donn, it's good enough for me, so into the drink it went.
…And then I went through about a dozen different versions before settling on the recipe for the meal. We dubbed it the "Pepe Llulla Swizzle," named for the subject of a lengthy Hearn essay entitled "The Last of the New Orleans Fencing Masters," about a Spanish inhabitant of the city who was the most renowned swordsman and all-around duellist of his day. We used the swizzle as our dessert cocktail for our Spirited Dinner, and Neal and the bar staff at the Delachaise did an incredible job with the recipe, as much a pain in the ass as it was to prepare.
The recipe that follows is not for this drink.
Here's why: after returning home, in an e-mail exchange with the Bum, I sent him the recipe. With all sponsor constraints behind us, the recipe could be altered into a final state, which would be the defining recipe for this drink. Jeff went Rainman with the drink, effortlessly dissecting its flavor and recommending useful tweakages. This is the resulting drink; with the changes made in the past month, and with the difficulty of getting anyone to remember a name as clunky as Pepe Llulla Swizzle, I felt it necessary to change the name as well, while keeping the spirit of Hearn's subject.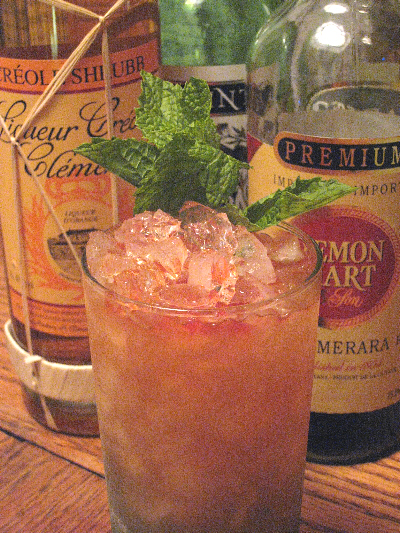 Swordfighter Swizzle

In a tall, 10-ounce glass, lightly muddle 6-8 fresh mint leaves, swabbing the sides of the glass with the oil.

Add:

1 ounce Cruzan Light rum
1 ounce Demerara rum
1 ounce fresh lime juice
1/4 ounce rich demerara syrup (2 parts demerara sugar dissolved in 1 part water)
1/2 ounce Rhum Clement Creole Shrubb
1/4 teaspoon Herbsaint

Fill glass with crushed ice; swizzle with bar spoon until sides of glass are coated in frost. Pack glass with more crushed ice. Bathe the top of the ice with:

2-3 dashes Peychaud's bitters
1-2 dashes Angostura bitters

Smack a mint sprig to release the fragrance, and sink it into the ice, along with a slice of fresh peach skewered on a cocktail sword. Insert a short straw, and go to town.
Humorous conclusion: While sipping this drink and finishing this post, I started wondering if I'd made a bad move — the drink didn't taste quite the way it did when I last tried it several days ago. Then, when placing the above image, I noticed the little red triangle on the Lemon Hart label — somehow I'd accidentally picked up the Lemon Hart 151-proof rum instead of the standard 80 proof, and didn't clue into it until I saw the photo, even though the freakin' bottle is sitting about six inches from my elbow. Note: don't try making this with the 151-proof. I'm not quite halfway through the drink and it's still kicking my ass.