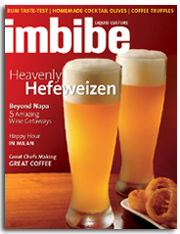 What with all the not-posting I've been doing lately, I've let the first few weeks of September pass without mentioning that the latest issue of Imbibe is out. The September/October issue was a two-fer for me, with somewhat related articles on applejack and eau de vie.
I'll get to an eau de vie post soon, but I wanted to mention that I had a lot of fun working on "Golden Delicious," the applejack article in the Elements department. Not only did I get to pull out my trusty bottle of Laird's and walk through a few old cocktail manuals in search of applejack drinks I hadn't tried, but I had the good fortune to interview Misty Kalkofen, who tends bar at Green Street in Cambridge, Mass., and is a big fan of the spirit (Misty is also active over at LUPEC Boston). Misty suggested a lot of different applejack cocktails that she's been mixing — one of her originals, the Fort Washington Flip, ran in the magazine — but there were many more great drinks I just couldn't cram into the available space.
Here's one I especially liked. The recipe is from David Embury's The Fine Art of Mixing Drinks, and this drink is somewhat unusual in that it calls for maple syrup as a sweetener. I know some people may write the drink off for that reason alone, but as Embury notes, "Don't shy away from it. It's not half bad."
Applejack Rabbit

1 1/2 ounces applejack
1/4 ounce fresh orange juice
1/4 ounce fresh lemon juice
1/4 ounce maple syrup (the real stuff — don't put that Log Cabin crap in your drink)

Shake with cracked ice and strain into a chilled cocktail glass.
The man knows his drinks — not half bad, indeed.