After a couple of weeks of dipping into the rye and applejack to commemorate the arrival of autumn, tonight I inexplicably had the urge to break out the St. Germain and the Aperol, and start tinkering to see what happens.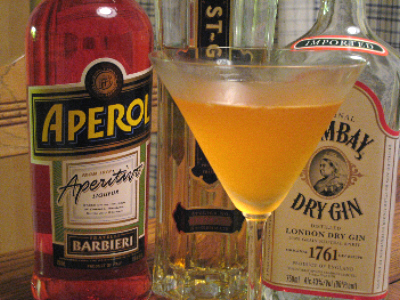 Here's what happened — not too bad, if I say so myself, though I'm still pondering the level of St. Germain; at 1/2 ounce the drink was still in the bracingly tart/bitter range, but at 3/4 ounce, the sweetness is moving in. I may dicker with the proportions some more, either dialing back on the St. Germain or giving the lemon juice an extra little kick, but I'm also anticipating that I'm way behind the times here (wouldn't be the first time), and that a drink very much like this one has been featured on a cocktail menu since last April.
Give it a try, if you like, and let me know your thoughts.
1 1/2 ounces gin (I used Bombay original)
1/2 ounce fresh lemon juice
1/2 ounce Aperol
1/2 ounce St. Germain

Shake with cracked ice, strain into chilled cocktail glass.
UPDATE: The sweetness was starting to get to me as I wrapped up the post, so I went and mixed up another, using only 1/2 ounce of St. Germain. Contrary to my initial concern, this version is much more balanced than the proportions I initially had, so I've changed the recipe to reflect this.