Never let it be said that I forget a drink recipe.
Okay — there was that little incident with the Boulevardier, when I read Doc's recipe in Imbibe but was so eager to flip back and read my own damn story that I completely blocked out the drink until Murray foisted one upon me months later. It happens.
But here's one I first read about, oh, four years ago, and haven't seen in print or online since. It was in a posting by Audrey Saunders over at the Drinkboy forum — and if that isn't enough to prick up your ears, I don't know what is — and she remarked that she'd made a drink similar to a stinger, but much more complex in flavor.
I've been known to enjoy a stinger or two, especially around the holidays, but I have to admit that, with the flabby creme de menthes available in this state, I haven't been able to summon the old enthusiasm for them that I had back when I was first shaking them up several years back. And while I try to upgrade my creme de menthe, I'm confounded at every turn: the highly recommended Get brand seems as rare as Swedish punsch; the well-regarded Marie Brizard version is sequestered away inside the wholesale-only liquor store downtown; and I stupidly left Vancouver last summer without buying a bottle of the Giffard Menthe Pastile, which I held in my hands before putting it back on the shelf, thinking "except stingers, what would I mix that in?"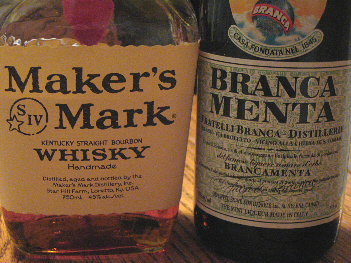 But now, I have satisfaction, and I owe it to that long-ago post from Audrey that I squirreled away in my brain until opportunity met desire while I was standing in Blackwell's Wine & Spirits in San Francisco a couple months back. Audrey's tweak of the stinger subbed Maker's Mark bourbon for the brandy — and I've always preferred bourbon stingers to the standard brandy version — but, more importantly, she calls for using Branca Menta in place of the creme de menthe. A sister product to Fernet Branca, Branca Menta has all the depth and complexity of the more familiar bitter, but in place of the emphatic eucalyptus notes of the Fernet, the Menta has a rich rush of clean, crisp mint. Better yet, it's sweetness level is entirely manageable, so the elaborate flavor can be enjoyed without feeling the need to run and brush your teeth afterward.
The drink's name is apt — it's a perfect nightcap. It's best enjoyed with an arctic chill, so shake it well and strain it over fresh crushed ice. It pours with a rich viscosity, and the mellowness of the bourbon marries with the minty complexity of the Menta in an absolutely dangerous fashion. This is what I'm drinking this holiday season.
Good Night, Irene adapted from a recipe by Audrey Saunders

1 1/2 ounces Maker's Mark
1 1/2 ounces Branca Menta

Shake very well with cracked ice, and strain into an old-fashioned glass filled with crushed ice.
And I suppose you can try it with bourbons other than Maker's Mark — so far I've done so with Weller 12-year-old and Buffalo Trace — but really, that soft, wheated aspect of the Maker's Mark was made for a drink like this.