It's snowing.
That may not sound like a big deal to those of you in places that actually have winter, but here in Seattle, it doesn't happen all that often. This winter, however, we've seen snow more than usual (including, memorably, on Christmas Day), though it's usually just a wet, sloppy half-inch that covers parked cars and fence posts for a couple of hours while making the standard Northwest winter puddles all the colder and drearier.
As is the case tonight. Thank god there's brandy.
Wait – let me amend that: thank god there's brandy, port, David Wondrich's latest book
and Mixology Monday to take the chill off. Foreseeing the kind of frigid misery many of this month's participants would no doubt be enduring, our kind host Marleigh – who, it should be noted, lives in sunny Southern California – proposed "Brandy" as the theme for this round. Since tomorrow it's supposed to hit 70 degrees in Los Angeles, I hope Marleigh is getting quite a giggle as the rest of us shiver our way through tonight's post.
I've long been a fan of the Sensation, which appeared in David Wondrich's Esquire Drinks
(now out of print; thankfully, the Esquire Drinks Database has recently rejoined the living). With its base of port backed up with half as much brandy, and a dash of orange juice for brightness, the Sensation is a gentle, soothing companion for the dead of winter.
Wondrich revisited the drink (or its ancestor, anyway) in IMBIBE!
, this time running it as the St. Charles Punch, named after a fine old New Orleans hotel. This version lost the OJ but introduced the juice of 1/4 of a lemon, along with enough sugar to take the edge off. (It was also served over shaved ice with fruits in season, whereas the Sensation was served straight up, but I'm not going to dwell on that right now.)
This is still a lovely drink, but sometimes you need something capable of warming you to your rafters, even if it's served ice-cold. That's when it pays to start digging into the explanatory text that follows each recipe in IMBIBE! (Seriously, that's where I'm finding some of the best stuff: need proof? Take his suggestion to top the Morning Glory with Champagne. Jesus.)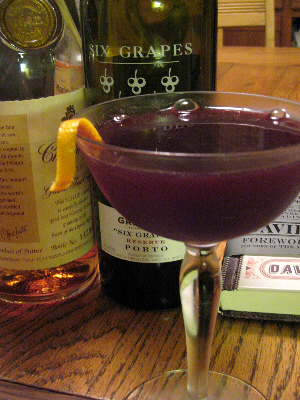 In this case, Wondrich idly tosses out the Enchantress, which he informs us appeared in American Barkeeper in 1867. A modest change in recipe, but a very pleasing one: the brandy is doubled, but the soft lusciousness of the port keeps it from getting out of line, and some curacao in place of the sugar adds a little flourish around the edges (you may wish to dial back the ingredients accordingly, so your drink actually fits into a sensible-size glass). Served up in a wine goblet (or champagne flute, as Wondrich suggests — though it's absolutely fine in a cocktail glass, as my photo should attest), the Enchantress isn't disheartened by a wintry night outside. If only I could say the same for myself.
Enchantress, adapted from IMBIBE!, by David Wondrich

1 1/2 ounces ruby port
1 1/2 ounces cognac
Juice of 1/4 lemon (about 1/2 ounce)
1 1/2 teaspoons orange curacao (to taste, based on the lemon juice)

Shake well with ice and strain into a chilled wine goblet or champagne flute.
And, since I mention them, here are:
Sensation (alias Brandied Port), adapted from Esquire Drinks

2 ounces ruby port
1 ounce brandy
Dash fresh-squeezed orange juice (optional)


Shake well with ice and strain into chilled cocktail glass; garnish with twist of lemon or orange peel.
St. Charles Punch, adapted from IMBIBE!
1 teaspoon sugar
2 ounces ruby port
1 ounce brandy
Juice of 1/4 of a lemon
Shake well with ice, pour into a tumbler, adorn with fresh berries.
Thanks for joining us this round, and thanks to Marleigh for hosting and for pulling me out of my now-typical post-holiday rut. Head on over to SLOSHED! to see what other folks have been up to this Mixology Monday.