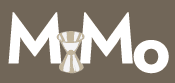 This could be the summer for pisco.
I've been hearing for years about how the revival of this South American spirit was right around the corner — about how pisco and cachaca (which is also made in South America, but beyond the matter of geography and color has pretty much nothing in common with pisco) are ascendant and just waiting for their breakthrough moment. And I look, and I wait, and…well, I can't say "nothing" because that's not the case, but for an alleged revival, it's certainly been slow to come about.
But really, this time it could happen, and it might be happening now.
Consider: six or so years ago, when I purchased my first-ever bottle of pisco, there were maybe three brands in the Seattle liquor store I visited (two, if you discount the one in the goofy novelty bottle), and those were all Chilean. Nothing against Chilean pisco, mind you, but the bottle I bought (and the others I subsequently tried) were, well, lackluster. So unimpressive, in fact, that I still have that damn bottle of pisco, somewhere at the back of the liquor cabinet, about three-quarters full and gathering dust.
But now, pisco's popping up everywhere, and this time it's not just mediocre brands that are coming into the store. Campo de Encanto, which is coming this way from Peru via San Francisco, is easily one of the very best piscos I've tried (and during a visit to Lima in February, I tried way more than my fair share), and other very good Peruvian piscos are popping up in bars and liquor stores right now, and — by not being crap, and not costing $40 a bottle — they're convincing bartenders and cocktail geeks to actually try playing around with the stuff, breaking out some old classics as well as experimenting with new pisco cocktails.
So, as I said, maybe this summer is it.
Since tomorrow is the first day of summer (and today is Mixology Monday, hosted by Filip at Adventures in Cocktails, with the theme of "Niche Spirits," which is a realm pisco falls into here in the U.S.), here's a pisco cocktail that's especially alluring: the Pisco Bell-Ringer.
I've tried this drink before, with the aforementioned crappy pisco, so I'm especially relieved now to mix it again with a decent representative of the pisco class. As Dave Wondrich notes in Esquire Drinks (and on the website), this little ditty goes back to 1903, when it appeared in Jim Maloney's How to Mix Drinks. While there are Bell-Ringer drinks (defined, apparently, as drinks served in a glass rinsed with apricot brandy) in Maloney's 1900 book, The 20th Century Guide for Mixing Fancy Drinks, pisco didn't make the cut in that round. That's unfortunate; pisco and apricot are absolutely bonkers for each other, with the round, flowery richness of pisco providing a perfect platform for the lush fruitiness of apricot liqueur; really, everything else in the drink just keeps it in balance so these two flavors-in-love can go at it like rutting weasels.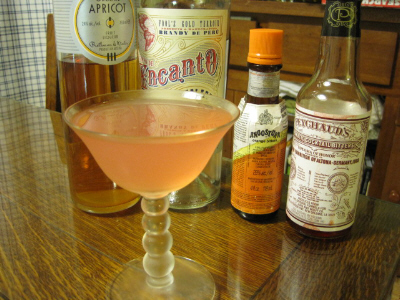 A version of this drink made its way onto the cocktail menu at Clover Club a while back, and that came out in Dale DeGroff's The Essential Cocktail; in this version, Julie Reiner tinkered with the formula slightly, adding an egg white and tweaking the bitters approach while adding an extra half-ounce of aged rum, which gives a little vanilla-ey woodiness to the mix; it's nice, certainly, but for tonight I'll stick with the earlier formulation (with one caveat: I'm bumping up the lemon and simple syrup, for a little better sour/sweet balance) rather than distract the pisco and apricot from their flavorful amore.
Pisco Bell-Ringer
(adapted from Wondrich's Esquire Drinks)

2 ounces pisco (I used Campo de Encanto acholado – stick with Peruvian for this mix)
1/2 ounce lemon juice
1/2 ounce simple syrup
2 dashes orange bitters
2 dashes Peychaud's bitters
Rinse of apricot liqueur

Combine everything except apricot liqueur in a cocktail shaker and fill with ice. Shake well until chilled, about 10 seconds. Strain into chilled cocktail glass that's been rinsed with apricot liqueur. Garnish with lemon wheel.
Mmmm, pisco. C'mon, summer of 2011, let's see what we can do with this stuff.
That's my drink for this Mixology Monday; be sure to head over to Filip's place to see what everyone else has been up to.