I've always had a soft spot for older recipes, even when they haven't worked out. For every eye-opening moment I've had with venerable drinks such as a Brandy Crusta or an Improved Gin Cocktail, there's been an awkward pause after taking a sip of a gin punch (a version that didn't work so well — there are others that do) or a yard of flannel. Time hasn't treated much of the drinks world so well, but that's as it should be — some drinks just don't taste very good, and were made to be forgotten. Are they interesting from a historical perspective? Sure. But do they taste good? Hell, no.
So it's with some measure of caution when I venture into old drinks books, but I long ago learned not to take recipes quite so literally. Yes, I try to hew to the original formulation as much as I can, and I'll usually mix an according to Hoyle version of an old drink at first just so I know what I'm dealing with. But if vintage drinks function as windows into a bibulous past, it's important to remember why those drinks were initially formulated. Some were designed as tonics or restoratives, others as aids to the appetite or digestion. But overwhelmingly, every drink ranging from prehistoric punches to contemporary cocktails has been designed for a reason: because it tastes good, and because it's a flavorful way to efficiently get liquor inside you.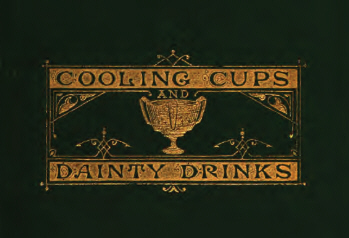 One vintage drink book I haven't worked with all that much — primarily because I don't own a hard copy, and have to rely on the version from Google Books (and I'm a sucker for hard copy, especially when it comes down to trying recipes) — is Cooling Cups and Dainty Drinks, by William Terrington. Published in London in 1869, Cooling Cups is of the same approximate vintage as that other leading text of classic mixology, Jerry Thomas' Bar-Tender's Guide. As its name implies, the book focuses primarily on that gauzy realm of drinks called "cups," a category that calls punch its own but that also includes drinks made by flavoring and (sometimes) fortifying wine, beer and cider. While the book ventures somewhat into what we think of now as cocktail territory, with recipes for juleps, cobblers, a crusta and the like, we're really talking mostly about larger-scale preparations.
As with any vintage drink guide, some of the recipes show their age, but you can see the underlying appeal of the drink through the creaky recipe. Here are two drinks that, as written, may not take you to many exciting places, but with a little fine-tuning, came out pretty well.
Let's start with the easy one first: the 'Tween Deck Cup.
'Tween Deck Cup, or a Splitting Headache—

Put into 1/4 pint of rum 1/2 doz. crushed cloves, a little cinnamon, ginger, and nutmeg; strain in an hour, with pressure; add equal quantities of lime-juice, and 2 quarts of bottled ale.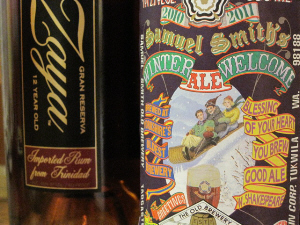 Simplicity was the main appeal to me here, plus I'm a little enamored with booze-beer mixtures that work well. I kept mostly close to the original recipe, with a couple of significant exceptions: first, four ounces of rum to two quarts of ale? C'mon — at that point it's just a glass of beer with a "does this taste funny to you?" air about it.
For flavoring, I followed the directions, except I used a few good chunks of stem ginger in syrup in lieu of fresh or dried ginger (why? because it tastes good, plus I had some), along with some whole cloves, coarsely crushed cinnamon sticks and a grating of nutmeg, all soaked in Zaya for a couple of hours, then strained. I made the beer-flavoring into more of a cocktail-style drink by shaking two ounces of the flavored rum with the lime juice and a little maple syrup (the other change, because otherwise it seemed just too acidic) with ice, then straining into a beer glass (I used a pilsner glass, as it seemed about the right size), and topping with a rich dark ale — maybe 3-4 ounces of beer, total, so the rum was still at the forefront of flavor. For the beer, I used Samuel Smith Winter Ale, what with it being Christmas-time and all, and this being essentially a spiced-rum drink, and the beer being the only thing that fit the bill currently in stock at my local store. So, to clarify:
'Tween Deck Cup (updated version)
(makes two drinks)

4 ounces rich rum – I used Zaya, but something like Zacapa or your other favorite big, dark rum should work well
6 chunks stem ginger in syrup
6 whole cloves
1 cinnamon stick
Fresh-grated nutmeg – 6 scrapes or so, perhaps 1/8 tsp?
2 ounces lime juice
1/2 ounce maple syrup
Chilled rich ale

Muddle ginger in a soaking jar. Coarsely crush cloves and cinnamon and add to the jar with nutmeg and rum. Let soak for an hour or two, then strain. Shake the flavored rum with the lime juice and maple syrup; strain into two chilled beer glasses. Top with about 4 ounces (each) of rich ale.
And the verdict? Way, way better than I expected. Really, I thought this would be kind of "meh" and I don't want to overstate things, because this won't be my favorite holiday drink or anything, but really, it came out surprisingly good. The fresh spices came through better than any commercially produced spiced rum I've had (including the good ones), and the beer really meshed well, making this into kind of a more mature spiced rum and Coke, if that makes any sense at all. Anyway, I liked it.
And that was the easy one. Here's where things got a little tricky, with a drink that doesn't even have a name of its own.
Cider Cup a la Ensor, No. 4

Infuse in a gill of brandy, or whisky, 1 scruple of the essence of jargonelle pear (acetate of amyl), 2 dessert-spoonfuls of guava jelly, or quince; slice of cucumber, if desired, for a cool taste; quart of cider, bottle of perry, sugar to taste; add 3 bottles of lemonade or soda-water; ice up.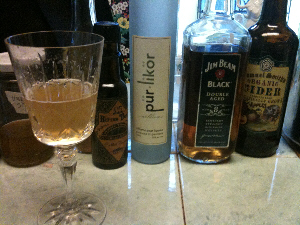 Okay, the thing that really got my attention here is the mention of "quince". Like certain other people, I've become a BIG fan of quince brandy in recent years; even though it takes me a year to make a batch (though you can probably get somewhere passable within a couple of months), the combination of cognac and quince is almost aphrodisiacal to my palate. But, look at that train-wreck of a recipe — where to start?
Okay, I lobbed the spoonfuls of jelly in favor of using quince brandy for the base (if you didn't have the foresight to prepare your own starting this time last year, then go with regular cognac and a barspoon of quince paste), along with an equal measure of bourbon, for more oaky depth. Lacking essence of pear, I opted for a lovely, lush German pear liqueur from Pur Spirits — this is without a doubt my favorite pear liqueur, with the ethereal flavor of pear eau de vie and the sweetness of fresh pears, a delicate liqueur but still with enough gumption not to immediately fade in flavor when confronted with other ingredients; really outstanding.
I added a little lemon juice, to compensate for what was becoming a sweet drink, and used honey syrup in lieu of sugar; also, for a little touch of spice, I added two dashes of The Bitter Truth Jerry Thomas Decanter Bitters. Finally, after shaking all that with ice, I strained into a cocktail glass and topped with maybe an ounce of chilled dry cider — I used Samuel Smith (again — based on availability, not necessarily preference; would be curious to try with other styles) — so think of this as a distant autumnal cousin of the French 75.
This was the drink I served on Thanksgiving; I think it worked well, with excellent flavors of pear, quince and apple, and a nice seasonal flavor without going overboard with cinnamon and other baking spices. If anybody wants to go all the way out there and mix one, please do let me know what you think.
Cider Cup a la Ensor, variation

3/4 ounce quince brandy (substitute cognac)
3/4 ounce bourbon
1 barspoon quince paste (omit if using quince brandy)
1/2 ounce lemon juice
1/2 ounce Pur Spirits pear liqueur
1/4 ounce honey syrup (equal parts honey and water)
2 dashes The Bitter Truth Jerry Thomas Decanter Bitters (or substitute Angostura)
— chilled dry cider

Combine everything except cider in a cocktail shaker and fill with ice. Shake well until chilled; strain into chilled cocktail glass. Top with 1-2 ounces chilled dry cider.
I'm guessing there are about two people on earth who might actually try these recipes (and that's a fairly generous guess), but if you decide to give either or both a try, please let me know.