I try to range around the country when searching for good new drinks, hitting up bartenders in Boston, San Francisco and New Orleans to get an idea of how things are working in other cities.
This means, though, that I've sometimes been guilty of ignoring what's happening closer to home, with Seattle bartenders, and part of what I'm trying to do with this short-term obsessive blog project is to highlight drinks from a few folks around town who are doing wonderful things. I've already mentioned Jim Romdall and his take-no-prisoners approach to mixology; here's a drink (a not incredibly recent one, though that's my fault) from another excellent Seattle bartender whose work I don't cover anywhere near enough: Zane Harris, from Rob Roy.
The last time I interviewed Zane for anything, it was about a year and a half ago, for a gin article I was writing for Imbibe. At the time, Zane was working at Vessel, and he gave me a couple of drink recipes that were dramatically different, but that were both incredibly engaging.
One of the drinks was the Stone Fruit Sour, a recipe that ran online but not in the pages of the magazine. A simple modification of a Corpse Reviver #2, the Stone Fruit Sour starts with the same model of equal parts gin, Lillet and fresh lemon, but in place of Cointreau Zane goes for the richness of apricot liqueur, and in place of the heady absinthe, a couple of dashes of peach bitters.
Stone Fruit Sour
by Zane Harris, Rob Roy

3/4 ounce dry gin
3/4 ounce fresh lemon juice
3/4 ounce apricot liqueur
3/4 ounce Lillet
2 dashes Fee Brothers Peach Bitters

Combine everything in a cocktail shaker and fill with ice. Shake well about 10 seconds; strain into chilled sour glass or cocktail glass.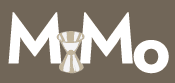 Before I go any further, I should note that today is Mixology Monday, hosted by Chris Amirault at eGullet, and Chris's chosen theme is "Like That? You'll Love This!" — in other words, sharing gateway drinks that can help usher the non-cocktail people in your life into your way of thinking. The last time an event with a similar theme came up, the drink I suggested was the Corpse Reviver #2, a flavorful and, in my mind, very approachable drink for beginners and committed cocktail enthusiasts alike.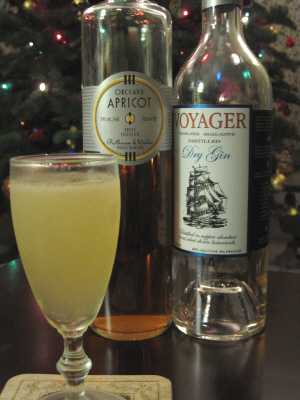 If anything, the Stone Fruit Sour is even more easy to love; richer and fruitier where the CR2 can be lean and rangy, the Stone Fruit Sour seems tailor-made for drinkers accustomed to sweeter, fruitier, juicier drinks without a strong taste of alcohol, while itself avoiding (mostly) all of those descriptors. Sweet? Not really, but the liqueur provides enough richness that it's sweet enough to get you there. Fruity? Hell, yes, but not in a cloying way. Ultimately, it's just a perfectly balanced drink that touches on the peach / apricot / lemon comfort notes, but doesn't sag into sticky insipidity like so many other drinks that venture down similar avenues.
Zane gave me another drink recipe to run with the gin story in 2009, one which actually did appear in print: the Don Bruno. Made with dry gin (Martin Miller's Westbourne Strength is what you really want here), St. Germain and Don Bruno Sherry Vinegar, the drink has a complex, deep, eye-piercingly sharp flavor that doesn't seem like it should work, but the combination really comes through.
The drink also has a problem — or, more accurately, I have a problem. A few months after the story came out, a bunch of us were at a dinner at Elemental in Seattle, a meal that featured pairings in which each course was matched with a drink made with Dolin vermouth. The drinks were created by various Seattle bartenders, along with non-bartenders including A.J. Rathbun and myself, and kicking everything off was an aperitif cocktail from Zane. I can't recall the name that was stuck on the drink, but it was absolutely fantastic, and incredibly simple: nothing more than a splash of Don Bruno Sherry Vinegar tossed into an ice-filled mixing glass, swirled around and then poured off, followed by Dolin Blanc vermouth, stirred and strained into chilled glasses. Something about the sherry vinegar / blanc vermouth combo made it perhaps my favorite drink of the night.
And the problem? Last spring and summer I found myself with a hankering for these drinks, but I got lazy about checking the recipe. In my thinking, every time I thought of Zane's Don Bruno cocktail, I forgot about the St. Germain and instead substituted Dolin Blanc, inadvertently mashing the two drink recipes together. An error on my part, I admit — but as I found out as this drink made it into occasional rotation in my house, it was a tasty, tasty error.
Don Bruno (mistake version)

2 ounces gin (Martin Miller's Westbourne – really, it makes a difference, but substitute Plymouth or another savory dry gin if you just can't get it)
1/2 ounce Dolin Blanc vermouth
1/4 ounce Don Bruno Sherry Vinegar
— lemon twist, for garnish

Fill mixing glass with ice, and add vinegar. Stir a few seconds to splash the vinegar all over the ice; strain and discard excess vinegar. Add the gin and vermouth, and stir well until chilled, about 30 seconds. Strain into chilled cocktail glass; squeeze lemon peel over the drink and use as garnish.
The mistake version lacks the extra sweetness of the original, which is a better foil for the vinegar, but Dolin blanc has its own grape-ey sweetness, and just enough heaviness on the palate to counter the vinegar's crisp bite. You really need to employ a light hand with the vinegar (or be vigilant about shaking out the excess), as it can easily screw everything up, but with its inimitable accent in the glass, it's like a whole other class of bitters that lends depth and roundness to the finished drink.
Anyway, there's one beginner-friendly cocktail for Mixology Monday, and one resolutely not a starter drink, both gathered (very long ago) from Zane Harris. While you're online, go check out the other drinks from this month's Mixology Monday, and once you've stepped away from the computer, go visit Rob Roy to see what else they've been up to.